Published by John Matuszak on 09/16/21
When you are looking to purchase a coin metal detector, you might be amazed, or even frightened, at the number of options available to you. While every metal detector is different, the factors that make a great coin detector are all the same.
One of the most important factors is detection depth. In addition, sensitivity, ground balancing capabilities, and optimized operating frequencies are all very important as well.
Fortunately, there are many machines that are great for coin metal detecting, ranging widely in price and performance. Among the favorites are the Minelab CTX-3030, the Garrett AT Pro, and the Bounty Hunter Quick Draw Pro, along with many others.
Continue reading this guide from the experts at Kellyco to learn about how you can pick the best detector for coins no matter your situation, experience level, and budget!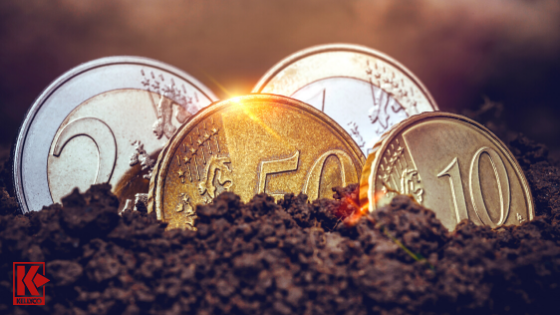 Coins sitting in the dirt, likely detected with a coin metal detector.
Our Reviews of the Best Coin Detectors
Best Overall Coin Metal Detector
Weight: 5.2 lbs.
Frequency: 1.5 kHz – 100 kHz
Waterproof: Up to 10 feet
Warranty: 3 Year Limited
The best overall coin-finding machine is the Minelab CTX-3030. The CTX is built to perform in virtually any condition imaginable and can be configured to search for virtually any type of target you could want.
It really shines on coins, with its variety of features designed to get the most performance possible out of a detector. It even comes with wireless headphones so you don't get tangled up in a headphone cord!
One of our favorite features the CTX offers is its excellent ground balancing capabilities. These ground balancing features allow the CTX-3030 to run in the most highly mineralized soils, including wet, salty sand.
Another great feature is Minelab's powerful FeCo Discrimination, which allows you to pick exactly what metal you are hunting for with no distractions from trash metals.
This saves treasure hunters tons of time, allowing them to dig only coin metal signals, like silver, gold, nickel, and copper. A big reason we love the CTX-3030 is how versatile it is.
With a variety of search, mode presets, you can begin coin hunting, relic hunting, or even gold hunting with a high-performance machine with the touch of a button!
Since coin shooting can take you anywhere, from local parks to wading out in saltwater, it is very important to have a metal detector that can withstand any environment. The Minelab CTX-3030 is submersible up to 10 feet, so it can go anywhere you want to find coins!
The ergonomics of a metal detecting machine can make or break the machine for many detectorists. Luckily, the CTX-3030 has excellent ergonomics, allowing you to stay out in the field searching for coins longer.
It really is amazing how comfortable a coin detector is with this many features! With that being said, the five-pound weight can be excessive for certain hobbyists, as it is on the heavier side for a detector.
The average detectorist should be able to swing this machine for many hours, but for some, they may prefer a lighter metal detector, such as the Garrett AT Pro or the Bounty Hunter Quick Draw Pro (more on those below).
To learn more about this detector, read our Minelab CTX-3030 Field Test.
Best Mid-Level Coin Detector
Weight: 3.03 lbs.
Frequency: 15 kHz
Waterproof: Up to 10 feet
Warranty: 2 Year Limited
The Garrett AT Pro is our favorite mid-level coin finder, as it provides so many great features at an excellent price point!
The AT Pro is highly versatile and can be used for coin hunting, as well as many other types of detecting. It is loaded with features that have helped hobbyists find old Morgan silver dollars, buffalo nickels, and old Colonial large cents for years!
Our favorite feature of the Garrett AT Pro metal detector is its powerful detection depth and sensitivity. The AT Pro is capable of finding coins at deep depths, while still providing excellent target separation.
The digital target identification and LCD screen display are also excellent features with the AT Pro. Garrett outfitted this detector with search mode presets, as well pinpointing features, and 40 manual discrimination tabs!
These discrimination tabs save coin hunters so much time since it allows detectorists to exclude iron and other non-coin metals from their target signals!
Ground balancing is automatic or manual depending on what you want, which is great for running your detector in salty, heavily mineralized areas.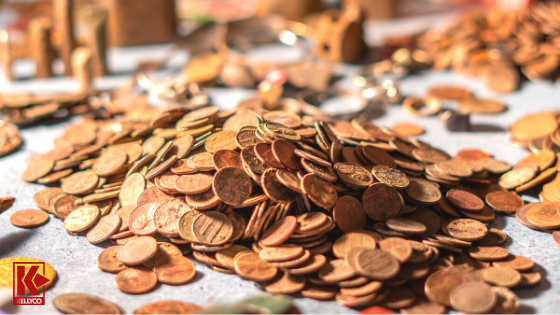 Coins that have been found using a metal detector.
The AT (All-Terrain) Pro gets its name due to its ability to be used in virtually every condition imaginable.
Saltwater, sand, rain, ice, and snow will not hurt this detector, as it is submersible up to 10 feet deep!
We particularly love this coin finder for treasure hunting in the water, as it is powerful and durable!
The lightweight of the Garrett AT Pro makes it a favorite among younger detectorists, or those who would prefer a lightweight coin machine!
The ergonomics of the AT Pro were designed with user comfort in mind. The grip is a non-absorbent rubber that provides all-day comfort. We would have no problem using this machine for coins all day long!
To learn more about this detector, read our Garrett AT Pro Metal Detector Review.
Best Entry-Level Coin Metal Detector
Weight: 2.9 lbs.
Frequency: 10 kHz
Waterproof: No; Weatherproof
Warranty: 2 Year Limited
The Garrett ACE 400 is our favorite entry-level coin detector, as it provides for easy operation, all-day comfort, and the features needed to find coins! The ACE 400 is great for finding coins, as well as many other metal types, making it a very useful and versatile machine for hobbyists.
One of the reasons we love the ACE 400 for a beginner coin detector is that it is really simple to operate. Simply turn the machine on, pick a search mode, and begin looking for old silver coins! The ground balancing capabilities are automatic, so you don't have to spend time adjusting it!
Though this detector is simple to operate, it is very powerful for an entry-level machine. Don't be surprised if you are finding coins deep in the ground!
Another of our favorite features is that the ACE 400 is equipped with Garrett's Iron Audio technology (to see a video of this technology at work, click here).
Iron Audio allows you to hear discriminated iron so you can listen for any good signals around the iron. This could help you find a coin among trash!
While the Garrett ACE 400 is not waterproof, the search coil and shaft are completely submersible, so you can still hunt a little way into bodies of water if you want to. If a waterproof detector is a must-have, check out the Garrett AT Pro.
The only downside of this machine that we can find is its lack of waterproofing, though, at this price point, that is impossible to find!
The ACE 400 is very lightweight, which also lends itself well to being a great entry-level coin detector.
In fact, we'd recommend a detector around this weight level for beginners, until their arm muscles are used to swinging a detector for extended periods of time. Finally, the ergonomics are on par with the rest of Garrett's comfortable machines, so no worries there!
Best Coin Metal Detector for Children
Weight: 2.5 lbs.
Frequency: 7.69 kHz
Waterproof: No; Weatherproof
Warranty: 5 Year Limited
The Bounty Hunter Quick Draw Pro is an excellent choice for any child or beginner looking for a metal detector for coins for several reasons. Its low price, great design features, and excellent performance all come together to create a great coin detector!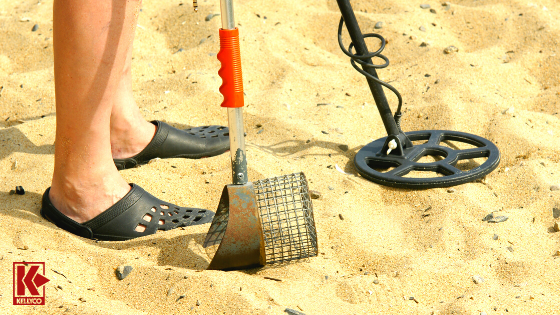 A detectorist using a sand scoop and metal detector on the beach.
The Quick Draw Pro is one of the lightest, most performance-packed metal detectors for its price.
The LCD display offers easy touch and hunt capabilities that make it very easy for a child or a beginner.
The Quick Draw Pro comes stock with a digital target ID, a depth indicator, and a built-in pinpointing mode.
The detection depth of the Quick Draw Pro is much greater than other detectors around this price point, making it quite simple to find old wheat pennies and other treasures!
In addition, ground balance features are fixed, which simplifies detecting for beginners!
The Bounty Hunter Quick Draw Pro can operate in many conditions, but it does have one drawback. Like other coin detectors at this price level, the Quick Draw Pro is not waterproof.
With that being said, the search coil and the shaft are completely submersible, allowing you to at least get a little way into the water. With all that being said, the Quick Draw Pro is very durable, as evidenced by its limited 5-year warranty!
The main reason we would recommend this metal finding machine for children is due to its being very lightweight! Coming in at 2.5 pounds, the Quick Draw Pro can be used by anyone for extended periods of time!
What child wouldn't love this performance-packed, lightweight, durable metal detector?
Coin Metal Detector Buying Guide
When you are hunting around for a coin-finding detector, you need to figure out what sets one machine apart from one another. There are several features to keep in mind when deciding what coin detector is right for you.
Among the most considered are ground balance features, hunting environment, search mode options, and price, as well as many others. Continue reading for a detailed look at how these factors can help you pick the best coin-specific machine for you.
Ground Balance
Ground balance is an important, often overlooked area of metal detecting. Put simply, ground balance is a metal detector's ability to operate in a heavily mineralized area.
Different ground conditions can cause false signals and distort a metal detector's ability to give clear signals of metal targets.
While many areas where hobbyists hunt may not be heavily mineralized, there are some areas where it would be impossible to metal detect without ground balancing features.
When it comes to ground balancing features, there are two options generally: manual and automatic. Virtually every detecting machine comes with automatic ground balancing, but some higher-end products offer manual ground balancing as well.
Automatic ground balancing can defeat most mineralization scenarios and are perfectly suitable for the average metal detectorist looking for coins.
Manual ground balancing options can be very important to more advanced detectorists hunting for gold or other targets in demanding environments.
As can be seen, ground balancing features really come down to personal preference. For most detectorists, we'd wager to say that automatic ground balancing is perfectly adequate for 99% of situations.
Some advanced detectorists may benefit from having manual control over their detector's ground balancing features. At the end of the day, this decision depends entirely on your preferences.
Hunting Environment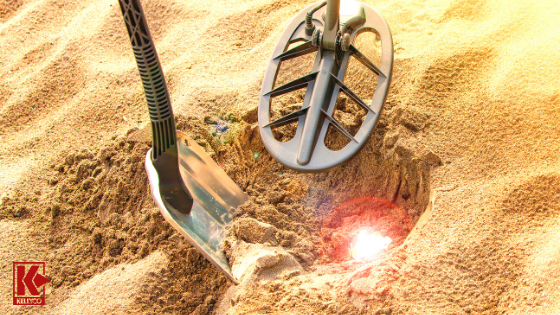 Finding treasure with a coin metal detector from Kellyco can be rewarding!
This is a very important factor to consider no matter whether you are looking for a coin detector or any other type of detector!
If you plan to spend time in salty or wet environments, you need to be sure that you get a waterproof metal detector that can be submersed at least 10 feet.
Even if you plan to spend time in shallow water, accidents happen and you could let go of your detector into the deeper depths.
Naturally, waterproof detectors are going to cost you more money, but if you plan to spend time around water, we believe this is an excellent investment.
If you are someone who will likely be searching only on dry ground for coins, you likely will be just fine with a non-waterproof detector.
Most detectors for coins on the market today have waterproof search coils and shafts, so you could get into very shallow water if you wanted to. If you don't need a waterproof machine, you can save some money in this area.
Since every metal detectorist has different hunting styles and locations they frequent, this factor will vary heavily from person to person.
Search Modes
Search modes are an excellent feature of both beginner and high-end products, as they allow hobbyists to pick out a preset list of performance features based on what they want to search for.
For example, most detectors offer a "coin mode", which is great for anyone who wants their detector optimized for finding coin metals, such as silver, copper, nickel, and gold.
If you want to find old coins as well as all other metal types, pick an all metal mode. If you are gold prospecting for gold nuggets, pick a gold or jewelry mode.
The pinpointer mode offered with most metal finders is especially useful, as it can save you a lot of time when you are recovering your target.
If you are someone who really cares about a variety of search modes, be sure to pay attention to what each different machine has to offer, as they can vary. Be sure to compare all search modes offered by each coin finding detector you are considering to figure out the best option for you.
Price
Always one of the most common factors is the price range of each coin detector. This factor varies in importance for most people, but it is always smart to be aware of what features you are paying for with your detector.
On one end of the spectrum, budget machines are very cheap, while offering decent performance. You might not find the smallest targets at very deep depths, but you should be able to find all kinds of good treasures!
Many times, entry-level detectors will not be waterproof, will have few customization opportunities, and don't offer some features more expensive detectors do.
On the other end of the spectrum, high-end machines can be very expensive, but they offer so much power and so many features. You should be able to find the smallest old coins at very deep detection depths with high-end metal detectors!
In addition, there are many aftermarket search coil options and so many user customization abilities.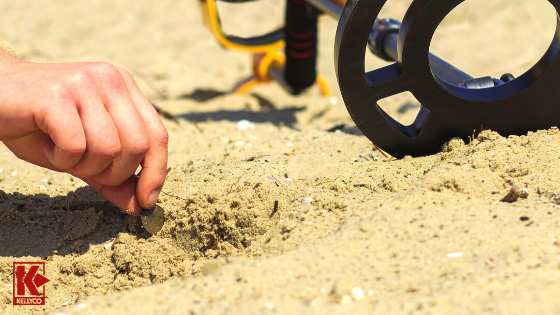 Finding coins with a metal detector on the beach can be much easier than you expect.
When it comes to metal detectors, you definitely get what you pay for.
With that being said, budget machines still excel at finding coins, jewelry, and whatever other targets you may want, but they don't offer all the bells and whistles more expensive detectors do.
Conclusion
Since there are so many factors that can affect what the best coin metal detector you can buy is, it's smart to follow this guide.
Figure out what the most important factors are for your personal situation, and then go from there. The thing to remember is that no matter what detector you decide to buy, it will serve you well and find you many old coins!