Published by Jenna Anderson on 05/06/20
About David Bachert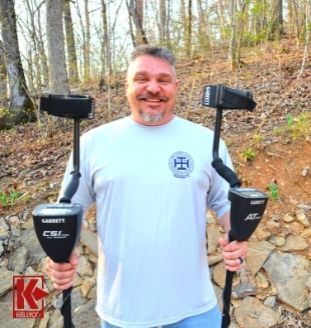 CSI Expert, David Bachert
David Bachert began his law enforcement career on February 25th, 1991, when he was hired by the City of Allentown Police Department and was part of the 47th Academy Class. He served as Sergeant at Arms for his class. Upon graduation, he was assigned to the 4th platoon as a Patrolman. During that time, he attended multiple training seminars including the IPMBA course and became a certified Bicycle Patrol Officer.
David then transferred to the Center City Bike Patrol Division, which eventually led him into Community Policing. He spent several years re-enforcing the bond between police and the community. He later returned to the 4th platoon as he sought to return to regular police work and an opportunity to enter the K9 program.
David certified as a K9 decoy and assisted several departments with training. When an opening was presented for the Evidence Unit, he submitted his interest and was transferred shortly after. During his time within the unit, he was promoted to Evidence Unit Supervisor. He ran the evidence unit until his initial retirement opportunity. Circumstances allowed him to remain in active duty for up to five more years, so he opted to finish his career back on the street as a Patrol Supervisor (Sergeant) for the 1st platoon.
After retirement, Sergeant Bachert continued in public safety, taking a position as a Public Safety Officer at Lehigh Carbon Community College. He then moved to Florida, where he worked as a Campus Security Officer for the University of South Florida, an Emergency Dispatcher for the City of Punta Gorda Police Department, and Campus Security for the Sarasota County School District. He is currently the Director of CSI and Security at Kellyco in Tennessee.
He is always seeking to expand on his training, which up to now includes:
Certifications and Licenses
Street Gangs and Youth Violence
Side Handle Baton / ASP
Hate Crimes and Subversive Groups
Courtroom Testimony
Drugs – Identification and Investigation
Property and Evidence
EMS First Responder
DUI Sobriety Checkpoint
First Responder – Hazardous Materials Recognition and Awareness
First Line Supervision
Highway Interdiction
Criminal Investigator School
Hidden Assets in Vehicle Training
Enforcement of PA Vehicle Inspection Regulations
Oleoresin Capsicum Aerosol Training Instructor
VASCAR – Excessive Speed Preventor, Model TK100 With Infrared Sensors
IPMBA Police Cyclist
Police Supervisor In-Service Training
Police K-9 Behavior and Decoy Techniques
Officer Safety
EVOC – Police Officer Basic and Emergency Driving Skills
First Aid – CPR / AED
Pistol Qualification – MASTER
Florida CCW
Tennessee CCW
State of Florida – Class D security license
Public Safety Telecommunicator 1
Certified Advanced Emergency Medical Dispatcher EMD
Nonviolent Crisis Intervention
FEMA
IS-00035.19 FEMA Safety Orientation 2019
IS-00037.19. Managerial Safety and Health
IS-00100.leb Introduction to ICS – Law Enforcement
IS-00100.sca Introduction to ICS – School
IS-00106.17 Workplace Violence Awareness 2017
IS-00144 Telecommunications Emergency Response Taskforce
IS-00200.b ICS for Single Resources and Initial Action Incident
IS-230.d Fundamentals of Emergency Management
IS-235.c Emergency Planning
IS-00320. Wildfire Mitigation Basics for Mitigation Staff
IS-00362.a Multi-Hazard Emergency Planning for Schools
IS-00700 National Incident Management System, an Introduction
IS-00800 National Response Framework, an Introduction
IS-00906 Basic Workplace Security Awareness
IS-00907 Surveillance Awareness
IS-00914 Active Shooter