Published by Jenna Anderson on 08/06/19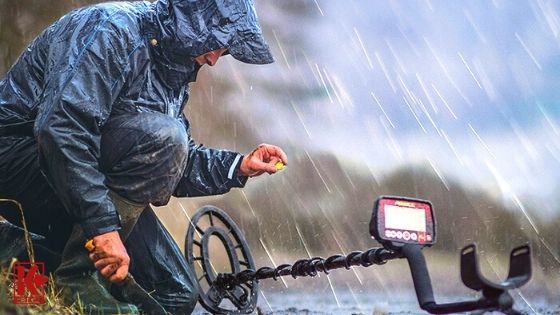 Fisher F44
The F44 is the latest in the Fisher line of entry level detectors. It was specifically designed and intended for land use and does well in that environment but as the manufacturer clearly states, it was not designed for use on salt water sand or surf.
This field test was designed to evaluate the F44 strictly from the user standpoint and was never intended as a metrics driven technical analysis. Secondly, the results, as with any detector undergoing field testing, reflect and are dependent upon the specific test environment, particularly where the level of mineralization in the soil, sand and water is concerned.
My test was conducted in sandy soil using auto Ground Grab with the sensitivity set at various levels. The target, a US clad Quarter, was detected and successfully identified at the depths of around 8-9 inches. I was impressed by how accurate the F44's depth scale was and its ability to correctly identify the target—it never missed within depth ranges for which it was designed. It even successfully detected a very small, 1 grain, flake of gold at 1-2 inches during an air test. I found the recovery speed surprisingly efficient for such an entry level machine.
I found no discernible difference in performance between Land and a Fresh Water Beach environment. Ground Grab worked as designed just as it had on land—perfectly. Operation was smooth and stable even at the highest level of sensitivity (20). The most impressive finds on the fresh water beach was a crushed flat aluminum can at 10-12 inches in the dry sand area and a penny 5 inches deep in the wet sand that was covered under 4 inches of fresh water.
The All Metal and Pinpoint modes worked as designed.
---
General Observations
Unboxing and Assembly : Excellent instructions and very simple to follow. Even a first time detectorist will be able to successfully assemble and put the F44 into operation.
Explanation of Capabilities and Function :Fisher has very adequately outlined the F44's span of capability within the manual, detailing the "how to" in placing the machine into operation within the various modes offered.
Weight, Water and Weather : At 2.3 lbs, the F44 is a joy to swing. The waterproof coil and weatherproof control box adds greatly to the F44's versatility.
Target ID Scale : Divided in blocks of tens. Exceptional approach; very user friendly and easily remembered.
Stability : The combination and coordination of Ground Grab and proper sensitivity level settings enables the F44 to stabilize very well.
Operating Modes :

Operating Modes

Five selectable modes are a significant attribute and perform as designed—Jewelry, Coin, Artifact, Custom and All Metal.

Factory Set Number of Tones Per Mode : I was especially impressed by this option on such an "entry level" detector.

Coins — 4
Jewelry — 3
Artifact — 3
All Metal — Threshold based and adjustable
Custom — ability to choose tones: hi – lo individually assigned to target type

Notch Capability : The ability to accept or reject different types of metal for each target category is a real plus for this level of detector.
---
Conclusion
The overall functionality designed into this entry level machine and the capability it offers to the new detectorist has been much expanded over previous detectors of a similar price point. It successfully combines a wide spectrum of that capability with simple navigational menus that are so important to the novice. If you're a land hunter looking for your first machine, the F44 is one to consider.
---