Published by Jenna Anderson on 08/06/19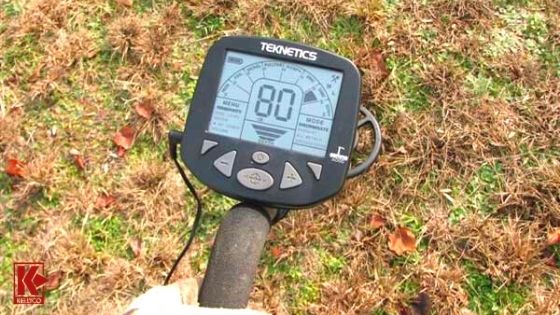 Teknetics Gamma 6000
My name is Mike Bearden and I live in north Alabama. I have been metal detecting since 1969.
I have used just about every brand of metal detector offered to the public in the last 30 odd years and really enjoy metal detecting and field testing different product lines.
Kellyco sent the new Teknetics Gamma 6000 to me to see how well it will perform in my area which is heavily saturated with iron ore and red clay.
I live in the middle of the iron ore belt that stretches from 150 miles north of my home and on down below Birmingham, Alabama.
This ground has proven to be very tough to tame for MANY of the high end detectors that I have tried here over the years.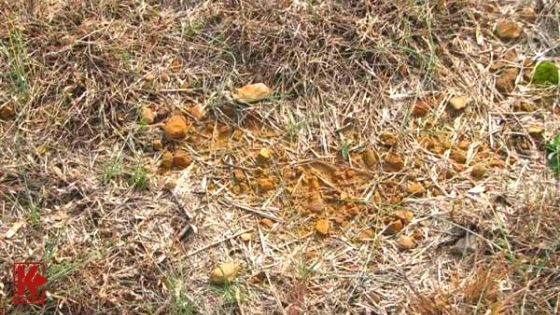 Iron Ore
Just to give you an idea, those gold/red stones in the picture are iron ore typically found in my yard and throughout the surrounding counties. This place is LOADED with it and if you drag a shop magnet around on the ground, these stones actually stick to it like metal. It's found on the surface and as far down as anyone cares to dig.
After receiving the Teknetics Gamma 6000 I opened the box, zipped through the 24 page manual and then put it together, installed the battery, turned it on and got familiar with all of the settings.
---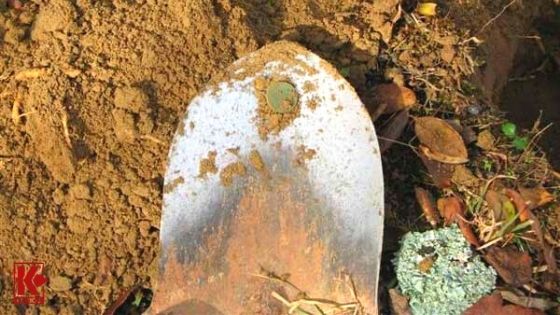 Indian Head Penny
My yard, 3 acres and already heavily hunted with many detectors before the Teknetics Gamma 6000 ever got a chance to prove itself.
I pushed the power button and the Gamma came alive but would not grab balance with the heavy frost on the ground. However, manual ground balance was quick and easy enough to do.
I selected four tones over the default setting of three because I like to hear as much difference between targets as the detector will allow.
The overall sound quality is pretty good and the adjustable volume is extremely loud when maxed out when real metal detecting headphones are used, however, a 1/4″ to 1/8″ adapter is needed to accomplish this unless you have a high end set of 1/8″ plug-in detecting headphones lying around.
Naturally the first thing I noticed in the cold weather, with gloves on, was how close together the raised rubber push buttons on the control housing were to each other. I can't tell you how many times I accidentally hit the OFF button when trying to pinpoint a target, without gloves it's not a problem.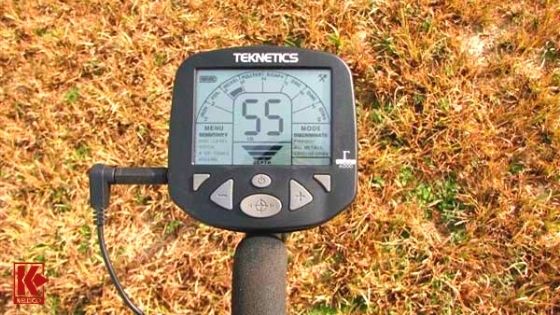 Low End Of The Nickel Scale
There is an old saying in the detecting world that says "You never get it all." ;And this was the case in my own yard that's been pounded to death by every detector I've tried here. The first area I hunted was underneath a big oak tree and soon the Gamma started singing a medium/high tone that pegged the depth gauge. I found a fat Indian head penny hiding under a root at about 5" or 6" deep. Can you see the green penny partially sticking out just under the root in the 2nd picture? If not, look in the shovel below that.
I also got a nickel within 2' of the IH under the oak. It was a good 7" down and came in at 55 on the meter display with 55 being the low end of the nickel scale.
---
Test Two
Lake Guntersville Park; this was NOT the first time that the Nickel 55 signal popped up on the display and they were ALMOST always a nickel, but some readings were up to 59 on the scale and it was always aluminum can slaw, wadded up foil or trash. Typical trash readings are pictured in the nickel scale below.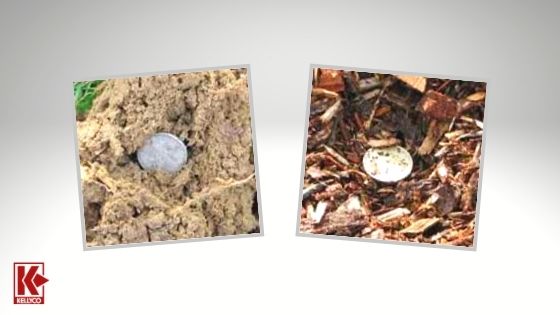 1963 Silver Dime And A Quarter
Under the trees, closer to the lake, the Gamma screamed out a high tone and I noticed the depth gauge reading only 4". I hit the pinpoint button and it sounded like it was practically on the surface but when the 1963 silver dime was recovered it was indeed 4" deep! So this is a very easy detector to use and pretty darn accurate too.
Here's a quarter that hit on the meter display 100% correct , 4″ deep and with the correct high tone, found in the wood chips at the tot lot.
Matter of fact, I found so many targets at the playground and under the trees that I had to go empty my pockets 40 minutes into the hunt.
---
Finds Made
Key ring, toe ring, fishing weights, lots of pennies, nickels, dimes, a few quarters, a cheap money clip, a thin silver bracelet, two coat buttons, junk jewelry, three miniature cars, a religious medal, two aluminum rivets, and some "what'sit's."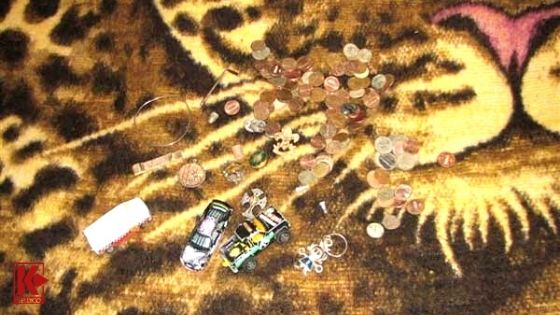 Finds Made
I thoroughly tested the notching features and was pleasantly surprised at how well they worked. I notched out every section separately, then used several notch combinations and very little slipped through the specified ranges except a few pieces of foil, large iron, broken pull tabs and trash aluminum can slaw. As far as I'm concerned, well, that can happen with ANY detector!
Take note that when the coil is swept a few extra times over a questionable, trashy sounding target at different angles, more times than not the Gamma will change its mind and show that trash is present.
Teknetics claims 20 – 25 hours of detecting time with one 9 volt battery. I used a good quality battery for testing and the battery indicator never dropped below full after approximately 12 hours of detecting.
The 8″ coil seems to cover enough ground for casual hunts but I like a larger coil when relic hunting and preferably a DD design for my highly mineralized dirt but it may work just fine in moderate to neutral soil.
With the low frequency of 7.8kHz I was really expecting the coil to perform much better than it did in my hot ground but I know from experience that a DD coil would be the better choice for me so I can't fault the detector. I was also hoping for better target separation results in concentrated target areas but this coil did not seem to separate that well when two or more targets were underneath the 8″ swath together.
I'm not a big fan of 1/8″ earphone sockets either, when using a 1/4″ adapter to convert my metal detecting headphones, the weight of the heavy duty cord wanted to disconnect the plug-in from the control housing so I was forced to use some cheaper headphones.
At only two lbs. this little jewel is a true featherweight and seems to be well constructed for the most part. I never felt any kind of slop or flimsy twisting through the hand grip while handling the Gamma; For a guy like me, with large hands, the rubber push buttons on the control housing are just too darn close to each other to use with gloves on. The buttons are very sensitive to the touch and a little to easy hit the ON/OFF button when trying to use pinpoint and suddenly losing your settings. The Gamma does not retain it's settings when turned off, it simply goes back to factory default settings.
Once the ground thawed out I managed to get the Gamma to correctly and automatically ground balance using the "Fast Grab" in the park and checked it against the "Manual" ground balance procedure. It was dead on. I normally get ground readings around here that range from the low 70's on up into 92 – 94 range, so this is right on par for my area.
Running the Gamma in "All Metal" mode was just to much for my ears in the park but I think it did just fine on my property where the targets were more spread out and it didn't seem to mind when I added more sensitivity for greater depth. It ran smooth up to 98% of full sensitivity even in this hot dirt in all metal mode. The large numerical digital display is a huge plus for me too, I never had to put on my reading glasses one time to confirm what I was seeing on the display.
One thing that I did notice about the Teknetics Gamma 6000 in discriminate mode is that it seems to have plenty of reserve power in the sensitivity department and can easily overpower the ground when to much sensitivity is used. It quickly becomes erratic with both audibly mixed sounds and numerical jumping on the display, just a quick bump or two down on the sensitivity scale and it purrs like a kitten again.
After only two days of testing the Gamma I believe that it's pretty impressive overall. Keep in mind that this test was conducted in some very high mineralized dirt with iron ore present, so my opinion is just that, my opinion. To be fair, it takes many more hours in the field to find the true strengths and weaknesses of any metal detector.
Would I recommend the new Teknetics Gamma 6000? ABSOLUTELY! It's easy-to-use and performs very well when compared to others in its price range!
---