Published by Jenna Anderson on 01/03/20
Metal detectors provide a critical role when assisting a crime scene investigation. With the proper tools to quickly identify, isolate and recover vital crime scene evidence while following protocol, justice can be served quickly and efficiently.
Kellyco wants to help you with that.
Metal Detector Efficiency
With proper training, the best metal detectors are extremely easy to use. Metal detectors can find evidence in half the time of traditional methods like ground search or the "feel" method.
Kellyco offers metal detecting training videos for your department once your purchase is complete so that you won't be left to figure it out on your own.
As our team at Kellyco has worked with law enforcement over the years, we've learned that when searching for a missing person, finding small objects like a ring or a cell phone makes a huge difference.
In that same vein, locating all the bullets fired at a crime scene — and even locating the weapons themselves — changes the entire course of the crime scene investigation.
Crime scene investigation metal detectors can help find those items in a much shorter time than traditional methods.
Metal Detector Training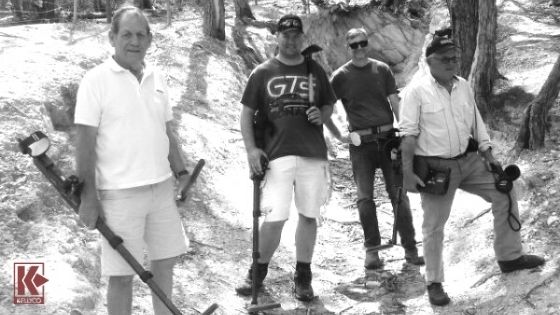 Metal Detector Training
To ensure metal detector efficiency, Kellyco offers metal detector training. This includes instructional videos and even in-person training if you request it.
Many of the law enforcement agencies we've worked with say they used to search for evidence by hand. Using a metal detector not only makes their job easier, but helps them solve crimes faster.
Best Metal Detectors for Crime Scene Investigation
Our Garrett CSI Pro is an all-terrain detector designed for long searches in any environment. It's waterproof up to 10 feet, and is perfect for finding gold, brass and lead, as well as other smaller targets.
Our Garrett CSI 250 features a target ID legend which identifies common crime scene items like bullets, bullet casings, and metal weapons, while the depth indicator shows how deep your target is located.
If you're looking for a handheld detector that's more like a wand, our Garrett CSI Pro-Pointer is a great choice. It's great for searching walls and tight spaces and features a scraping blade, LED flashlight, 360-degree side scanning capability and water-resistant casing. It beats searching for things by hand.
For underwater hunting, our Nokta Makro Pulsedive Scuba Detector is handheld and completely waterproof up to 200 feet.
If you need tow-behind detectors that can be lowered from boats or run as remotely operated vehicles, we have those available as well.