Published by Barrett Ward on 01/21/22
Kellyco Metal Detector's Design Director, Barrett Ward, wrote this article to provide insight on the inspiration and thought behind the engineering of the StuLine Signature Series 36″ T-Handle Shovel by Kellyco.
The Inspiration Behind The StuLine Shovel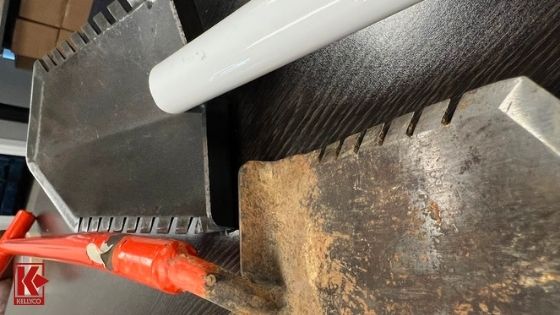 The laser cute and handcrafted spades of the StuLine and Ground Hawg Shovel.
When I set out to design the new StuLine Shovel, naturally, the first thing I did was to gather up all of the shovels we had in the building, especially those that had been returned. I quickly surmised that they are all great shovels; we don't sell anything that we wouldn't ourselves use to treasure hunt or even dig up that dying Azalia that your spouse keeps on about. Yes, I dug it up, and yes I used a StuLine. I may have replaced it with the wrong color, but I digress.
I keep seeing the StuLine compared to the Whites Ground Hawg Shovel – this is no secret. It was an amazing shovel, they stopped making them so that left the biggest hole (see what I did there) in the lineup. The Lesche All-Purpose T-Handle Shovel is phenomenal, its fit and finish are outstanding, and is well balanced. The balance is certainly what impressed me the most, but the price leaves something to be desired.
The Grave Digger Tools are tanks! They are handcrafted and the laser cut spades are works of art; however, the Grave Digger Tools T-handle Shovel isn't rounded at the ends and I find it very uncomfortable.
Comparing The StuLine vs. The Whites Ground Hawg Shovel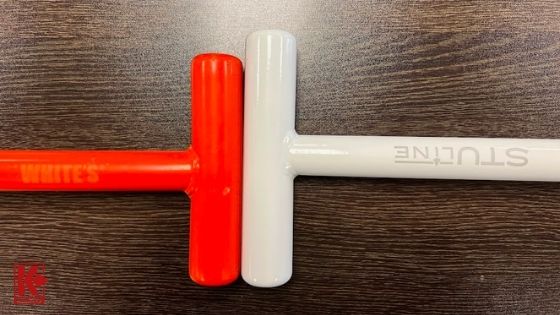 The difference in length between both t-handles.
The Whites Ground Hawg Shovel is an elegant, functional, and perfectly simple shovel with a few shortcomings. In the pile of returns, there were several broken Ground Hawgs, all of them bent and broken where the tang ends in the inner handle. While not common, it happens and I wanted to prevent it with the StuLine T-Handle Shovel. I wanted to prevent this failure and match the balance of the Lesche– I found that I could accomplish both by greatly extending the length of the tang and increasing the wall thickness of the T-handle.
I used a Ground Hawg as my primary shovel for all of my metal detecting and while it was great, it never did fit my hands how I would like, especially if I were wearing gloves. The handle always hit right in the middle of my hand, the fold if you will, and it was uncomfortable- so I made the StuLine large enough that it comfortably landed more towards the outside of the hand.
We tested this with everyone in the office including the bigger guys and it was great. Also, it wasn't so large as to be uncomfortable for anyone with smaller than average hands too. Another small complaint I had of the Hawg was the part of the spade where you push down with your foot to dig. Particularly noticeable if you are wearing muddy boots, this surface is just a bit too small and my foot would slip as I went to dig, especially in firmer soil. My last critique of the Whites Ground Hawg Shovel is that I always found the plug to be slightly too small and slightly too conical. I addressed this with a larger spade and tweaked angles and the plug this produces is perfect.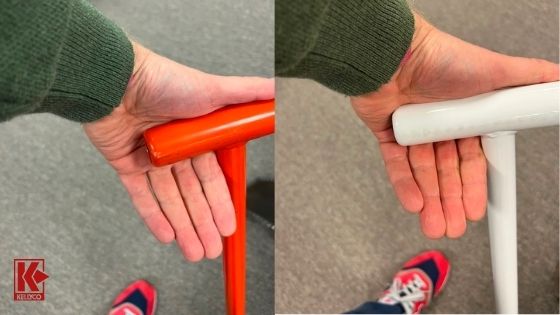 Creating a longer handle to grasp easily with the StuLine Shovel.
The result of weeks of testing was quite positive and I love what we've made! I think that we would have made Stu proud! Please reach out if you have any suggestions for changes or improvements and even with products you'd like to see us design for the new StuLine series. Look out for a hand digger we have in the works as well as a few more products I can't yet mention. Thank you!
Oh- I'm also frequently asked about the color. Why white? Won't it get dirty? Firstly, it's easy to find if you set it down, and secondly- YES!! Yes, it will get dirty! The dirtier it gets the more stories you'll have to tell. Have you ever seen a really muddy white Jeep and thought– I bet they had fun? That's the vibe I'm hoping for with the StuLine. It's not art for the wall, it's a tool for adventure, get it dirty, chip the paint, wear out the spade and sharpen it every few years, have adventures, and find treasure. If you break it, we will send you a new one! Treasure Awaits!!
For feedback and suggestions on the shovel or other products you'd like to see Kellyco design for the new StuLine series, please email stuline@kellyco.com.
StuLine Signature Series 36" T-Handle Shovel by Kellyco
With the StuLine Signature Series 36″ T-Handle Shovel Kellyco, you get a maximum duty, all-terrain shovel designed to help detectorists dig through the toughest roots and soil conditions.
This shovel was designed and engineered to bring you a refined, strong, and comfortable shovel that can outperform and outlast the industry's best T-Handle shoves.
Handle: T-Handle
Weight: 5lbs, 5oz
Length: 36″
Brand: StuLine by Kellyco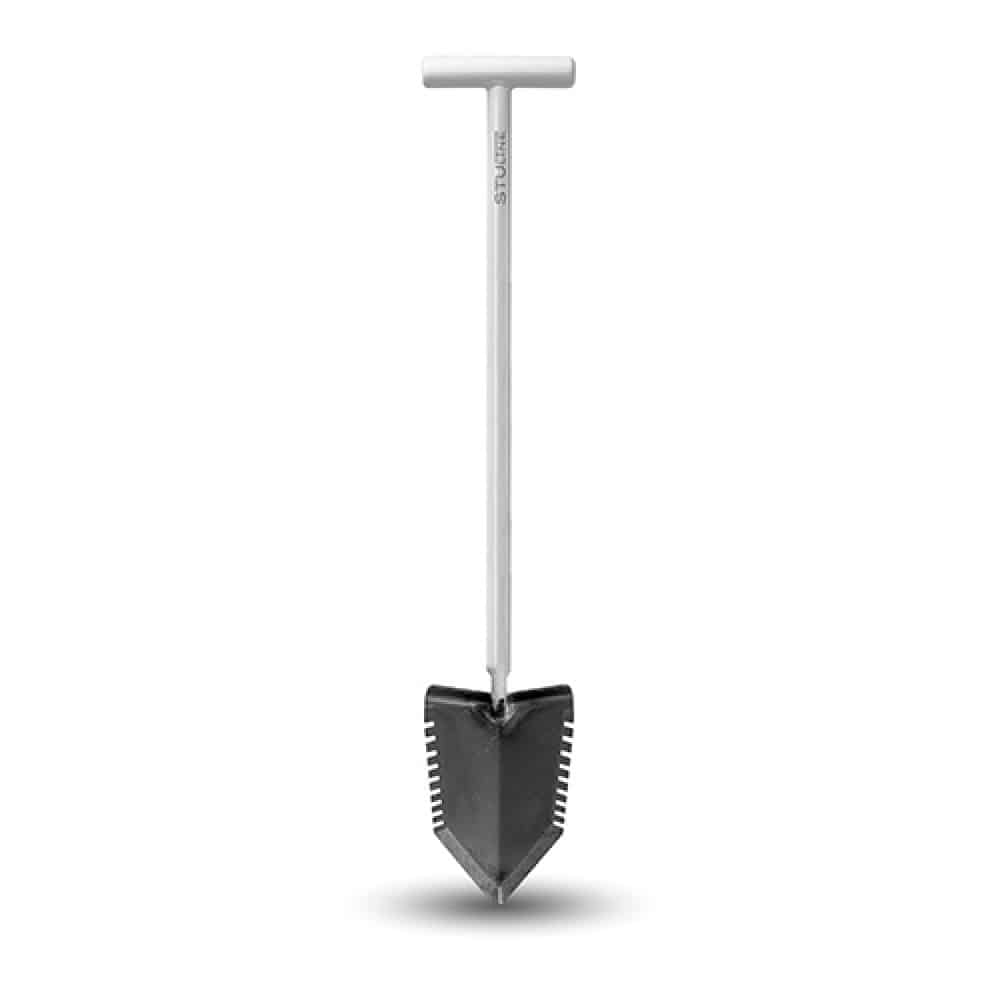 30% Larger Spade on Average!
33% Thicker Steel
Difficult to Bend
Comfortable Grip
Double-Sided
**CAUTION: This shovel is sharp, can inflict serious bodily harm if misused. Please check local ordinances to see if you need a permit for such a destructive implement.