Published by Carolyn Yohannes on 04/03/16
There is a unique beauty and serenity to beaches that other landscapes just can't match. Anyone who's ever watched the sunrise out of the ocean can attest to this. As the sun rises, so do people who want to enjoy the beach in their own way: sunbathers, surfers, and people building sandcastles. But what about people who want another option? That's where another classic pastime comes in: beach metal detecting.
Metal detecting is a great way to take in the beach's natural beauty while separating yourself from the crowds. Even better, crowded beaches make for some of the best hunting spots!
Why Metal Detect on the Beach?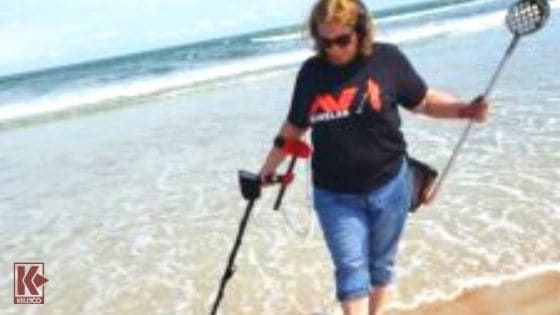 Kellyco Employee Carolyn Harwick Metal Detects On The Beach
There is a metal detector for every type of hunt imaginable. Many modern metal detectors models come with an LCD screen, are waterproof, and have lots of unique features. You can start finding treasure on the beach today for less than $300.
There are all sorts of benefits to metal detecting on the beach. Beachcombing — an activity that involves simply looking for treasure on the beach whether you have a metal detector or not — has been popular for centuries. People have always combed the beaches for shells, sea glass, and washed-up treasure.
If you have a love for adventure, you'll love metal detecting. Every alert signals a new discovery. You may never be Indiana Jones, but there's a whole world to be discovered just under your feet. And best of all, you (almost) never have to give it to a museum.
Exercise
Looking to get in a few extra steps in between getting some sun? Metal detecting can help with that! What's great about being a detectorist is that you can go as far as your legs or battery will take you. (Pro tip: Bring an extra battery pack with you if you want to extend your detecting time!)
Relaxation
There's a rhythm to treasure hunting that forces you to slow down, relax, and take everything in. This won't just help you be a better hunter. It will help you be a better person as you learn to relax and be in the moment.
Friendly connections
Metal detecting, whether you're at the beach or any other environment, can be done solo or as a group. The detectorist community is a passionate one with clubs all over the world. Chances are that there's one near you. From Alaska to Washington, detectorists gather to enjoy the thrill of the hunt together. The Central Florida Metal Detecting Club is a very active community-based in Orlando and is also the oldest club in the state. Not only do they detect together, but members also participate in search and recovery efforts.
Clubs often participate in group hunts. It's a lot of fun to get together with people who share your love of detecting. You can compare finds and get help identifying them, discuss some of the best places to hunt, and share detecting tips and tricks that help you combat the learning curve.
To connect with a local club near you, visit this website.
Beach metal detecting is just like detecting anywhere else. There are local rules and regulations you must follow. For example, you can't dig on a historic or archeologically important site. It pays to research those laws as well as the history of the area to find the best hunting spots.
Places to Go Metal Detecting on the Beach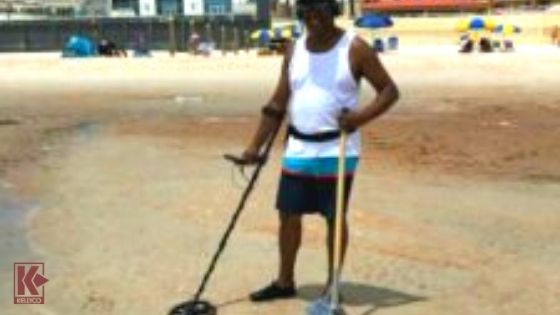 A Man Metal Detects At A Florida Beach With A Metal Detector And A Sand Scoop
The east and west coasts will be where most American detectorists spend their time. There are plenty of island beaches to hunt in Hawaii and other islands as well. European beaches where World War II battles were fought are another favorite hunting ground for detectorists. Like American beaches, you'll want to make sure that hunting is allowed there.
The best beaches for beach metal detecting are upscale with lots of tourists. These beaches increase your chances of finding the treasure of higher value. There isn't just one best place to metal detect on the beach. Check out the following areas:
Towel lines – Typically, people on the beach follow each other's lead and lay their towels down in a line along the shore. Look for sections of the "towel line" that are empty and search those areas. Be careful to not irritate the sunbathers — you don't want to be that person.
Areas of activity – The best places to hunt are where people are gathered (or were gathered). For that reason, it's a good idea to hunt around picnic areas and refreshment stands where items may have been dropped. If there are beach volleyball areas and lifeguard stations, those are great sites as well.
Shady areas – In the heat of the summer, beachgoers will look for shade. Hunt in areas where piers or large rocks provide afternoon shade; people have likely spent some time there.
The best beaches on the East Coast for finding the most valuable treasurers are more populated ones in cities like Fort Lauderdale and Tampa, Florida; Atlantic City, New Jersey; and Myrtle Beach, South Carolina. On the West Coach, try Venice Beach, Long Beach, and La Jolla Beach, California.
The best single spots on these beaches to treasure hunt include trails, walkways, seawalls, boardwalks, and concession stands. Using maps and resources from the library will allow treasure hunters to find abandoned or lesser-known swimming destinations which can open up new, exciting opportunities for treasure hunting.
Private or quiet beaches tend to produce less because they have a smaller amount of people on their shores. On the other hand, beaches that have been visited often in the past make for great treasure hunting. Changes in the topography, like erosion, can reveal valuable items that may have been lost over time. Development along beaches can also play an important role because construction tends to dig up loose soil where gold rings and other jewelry can be found.
Treasure Hunting Florida Beaches
Metal detecting Florida beaches is a popular activity in the south. Florida has a lot of historical sites that can complicate your hunting, as well as state laws that may affect what you can and can't keep.
Don't metal detect in water, since you may be hunting on what is considered state sovereignty submerged lands, which includes wet sand.
A treasure that's 50 years old or more is considered state property, so you won't be able to keep it.
Private detectorists are forbidden from hunting in water adjacent to national parks.
You can hunt in designated areas of state parks, but rules are subject to change.
Florida is home to what is known as the Treasure Coast. Over the course of time, millions of ships have shipwrecked along the shores all around the world. An estimated $60 billion in treasure is buried with them. Vero Beach is a good example of a Treasure Coast beach: it's home to the 1715 Spanish Treasure Fleet wreckage. A surprisingly great time to find treasure on the coast is after a bad storm or hurricane. Artifacts and coins wash up on shore, and everything that was along the bottom of the shoreline gets washed up.
Keep in mind that rules will vary from state to state, so do some research beforehand if you plan on traveling with your detector. You don't want to find out that you should have left your metal detector at home!
Beach Hunting Techniques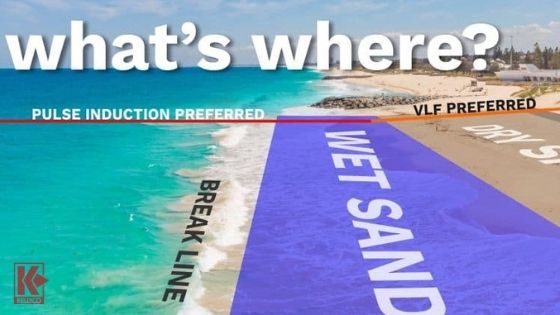 Beach Hunting Techniques
Scott Lupro with Mental Metal Detecting said in an interview with Kellyco Metal Detectors that it's important to spend a little bit of time doing reconnaissance when you first arrive at the beach. Take note of where everyone is sitting and where the concentration of chairs, towels, tents, and umbrellas are located. In addition, take mental note of where the surf is breaking and how far out in the water the people are wading, especially as the low tide creeps in. These are the places where most of the treasure will be found.
"I often find that the best (most concentrated) areas to hunt are near lifeguard chairs and public footpaths to the beach. You should hunt those areas hard including both the wet and dry sand," said Lupro.
Waves and shifting tides make beach metal detecting a constant adventure. Erosion can turn exhausted and "lost" beaches fresh again thanks to changes in topography. Just be sure to take your time, slowly swinging your search coil as close to the ground as possible while beach metal detecting.
Want to know how to beach metal detect? There's more to it than swinging your detector back and forth.
Gridding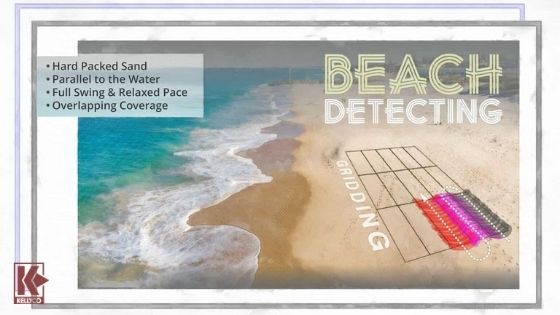 Gridding
Gridding is a time-tested strategy that almost always turns up targets, regardless of where you're hunting. Gridding helps you be methodical while keeping your hunt simple and straightforward.
Choose an area of hard-packed sand parallel to the ocean. You can mark your grid using your scoop if you want.
Complete a full swing of your detector for every step you take.
When you reach the end of your grid, take one or two steps to the side you haven't searched yet.
Repeat the process, making sure that you're swinging wide enough that you're overlapping the area you just searched.
Repeat this process until you have searched the entire grid.
Swinging the detector slowly helps you get a better signal by penetrating deeper into the ground. Also, don't abandon your grid once you find something! It will take multiple sweeps to fully exhaust the grid.
Wet vs. Dry Sand
Beach metal detecting tips vary based on the different types of sand. Dry sand is similar to sandy soil, but with more trash. You'll probably have to dig through some junk until you hit paydirt. On the bright side, you'll be an expert at distinguishing trash from treasure before you dig!
Hunting in wet sand is best done when the high tide recedes. Signs like erosion from wind and water, dips, or "scallops" in the sand, and pockets of shells and other debris tell detectorists where the best places to start hunting are.
You'll want a waterproof coil or an entirely waterproof detector for this type of detecting. Keep in mind that salt water can also interfere with your detector's ability to find targets.
When to Metal Detect on the Beach
Salvador Guttuso, the owner of adventure tourism company History Hunts, said in an interview with Kellyco Metal Detectors that the best times to hunt the treasure coast beaches are during low tide after big storms. If it's a beautiful day to be at the beach, it's probably not a good day to metal detect on the beach.
Hunting at night is also a good choice. It's peaceful, cooler, and not as crowded.
Choosing a Metal Detector for Beach Metal Detecting
Kellyco offers the best metal detectors available today. The detector you choose will largely determine the outcome of your beach metal detecting hunts. The first choice you'll need to make is usually between very low frequency (VLF) and pulse induction (PI) metal detectors. From there, it's based on your budget and the features you want.
VLF vs. PI Metal Detectors
VLF detectors like the Garrett AT Max are the go-to detectors for novice as well as seasoned detectorists since they're ideal on dry sand and freshwater. The downside is that wet, salty sand can cause false signals. Make sure that your detector has an adjustable ground balance that takes salt into account.
PI detectors like the Garrett ATX Pro are designed to ignore salt and can detect targets buried much deeper below the surface. The main downside to pulse induction models is that they can't differentiate between trash and iron when searching for gold. PI detectors are also usually more expensive than VLF models.
Top Metal Detectors for the Beach
You can choose to use a metal detector with just a waterproof search coil as long as you don't plan on getting the rest of your detector wet. With that said, accidents do happen. Choosing a waterproof metal detector can give you peace of mind when beach metal detecting!
Kellyco offers a wide assortment of metal detectors for the beach. If you don't purchase a waterproof detector, make sure to get one that at least has a waterproof coil.
Best for Beginners
The Nokta Makro Simplex+ is an affordable, waterproof detector. It's compact and easy to use, making it perfect for beginners. It performs like a high-end detector. It includes features like manual ground balance and notch discrimination and is fully submersible up to 10 ft.
Nokta Makro Simplex
The Simplex is a simple, easy-to-use detector. It has an auto ground balancing and four preset search modes, including a beach mode. Includes an 11-inch search coil. The Simplex is fully submersible up to 10 ft. and has great lighting for nighttime and underwater use. It has great discrimination between metals. Features VLF technology.
Weight: 2.9 pounds
Frequency: 12 kHz
Waterproof: Fully submersible up to 10 ft.
Warranty: Yes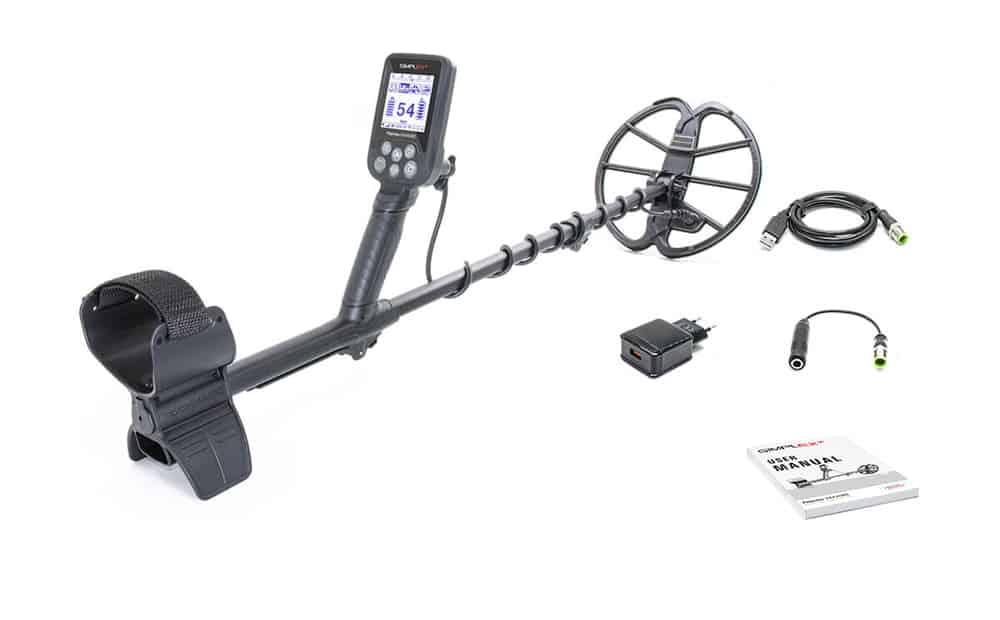 Turn on and go
No false signals
Lightweight and well-balanced
Very basic (no bells or whistles)
Large coil
Tones can seem amateur
What Our Customers Say
I recently tested the Simplex in an area where I have been detecting for the past three years. Without adjusting any of the settings, I took it out of the box, turned it on, plugged in the headphones and started detecting. The Simplex has an 11" coil, and I wasn't expecting it to pick up much at this particular park because there is a lot of junk. I was very surprised at how clearly I could hear signals between trash. Within just a few hours, I found a wheat penny, a railroad spike and a brass buckle from the early 20th century. The buckle was buried 8 inches down. I have tendonitis in my elbow and swinging a detector for hours usually hurts, but after detecting for 3.5 hours, I had no issues whatsoever. This no-frills detector is an overachiever. - Carolyn Harwick
Best Value
The Garrett Sea Hunter Mark II has been considered one of the best underwater detectors for over 25 years. It boasts a Discreet Elimination mode that ignores trash like foil and pull-tabs while remaining sensitive to coins and jewelry. It includes underwater headphones and an electronic housing that can be mounted to different locations, such as your hip.
The Garrett Sea Hunter Mark II is a PI detector, so it's great at canceling out interference from sand and other mineralization. The downsides are that it's heavier than other models and there isn't a coil cover for it.
Garrett Sea Hunter Mark II
Garrett's Sea Hunter Mark II has been one of the best underwater detectors for over 25 years. It can ignore most trash, including pull tabs and foil, without degrading the sensitivity of rings and coins in Discrete Elimination mode. It includes underwater headphones and an electronic housing that can be mounted at different locations (including on your hip). This detector cancels salt and ground mineralization with pulse induction circuitry.
Weight: 5.1 pounds
Frequency: PI — 750 pulses per second
Waterproof: Submersible up to 200 feet
Warranty: 1-year limited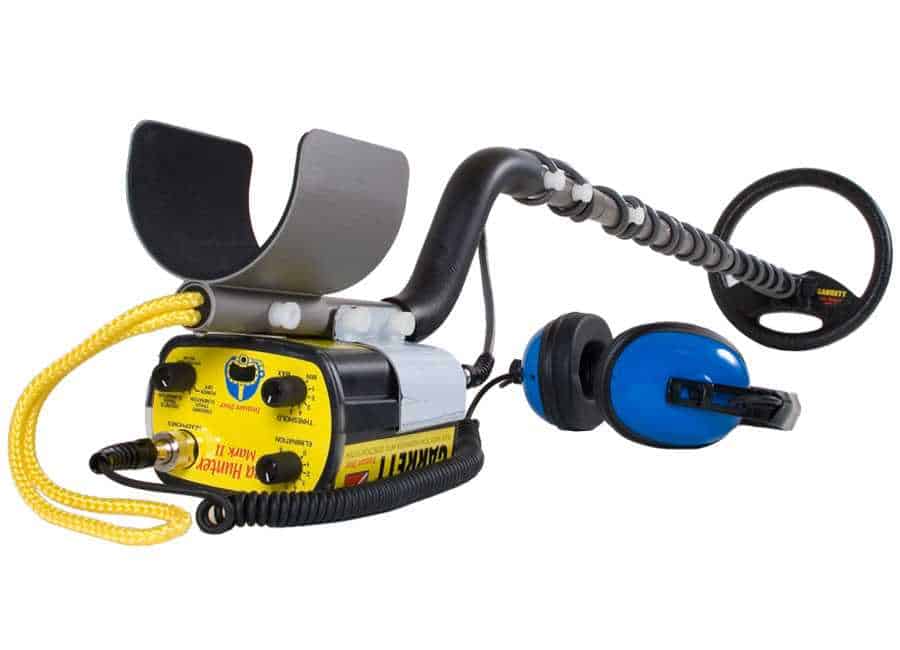 Affordable pulse induction machine (one of the least expensive PI machines on the market)
Waterproof to 200 feet
Non-motion deep-seeking mode for diving
The discrete Elimination mode is not as advanced as some other machines
A little heavy at over 5 pounds (but not too bad if used underwater)
There is no coil cover for the 8" coil
What Our Customers Say
Waterproof. Easy to use? Gold and silver rings jump out at you. Dry sand. Or chest deep water. Great machine. Oh by the way. Coin shooters and relic hunters if you are a beep and dig guy as I am. This is your machine as well. Gold prospector? This is it. I've found pickers with this on my land in the north Georgia mountains. I live a block from the beach in Panama City Beach Florida. I have land in the mountains. This is a go anywhere, do anything machine. - James Z.
Best of the Best
The Minelab Excalibur II is completely waterproof. You can even use it to go scuba diving! It works very well outside of the water as well. It features 17 different frequencies so that you can find more coins, jewelry, and buried treasure than ever.
Other detectors that are great for beach metal detecting include:
Minelab Excalibur II
Do you want to go metal detecting and scuba diving? The Minelab Excalibur II is for you. This detector is waterproof up to 200 feet, but it's also effective on land. It features 17 different frequencies to help you find more coins, rings and relics buried deep down.
One of the nifty features is that this detector emits a different tone for every frequency. The tone for gold, for example, will sound different than the tone for silver.
Weight: 5.1 pounds
Frequency: 17 frequencies from 1.5 kHz – 25.5 kHz
Waterproof: Up to 200 feet
Warranty: One year limited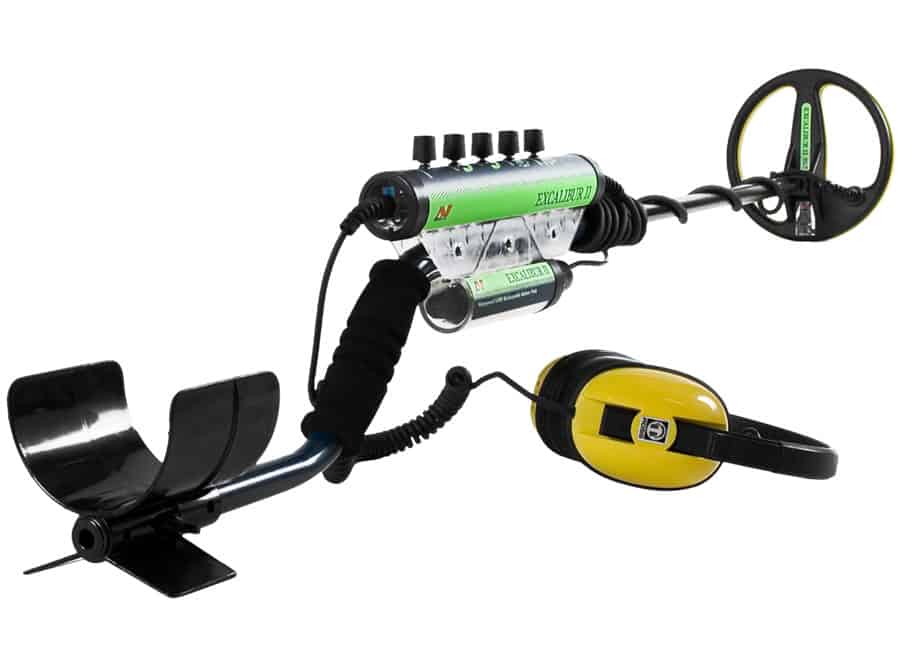 Waterproof to 200 feet
Uses Broad Band Spectrum (BBS) multi-frequency technology
Different tone for each frequency
Headphones are hardwired to the machine
Without proper care, the seals can wear down
A little heavy at over 5 pounds (but not too bad if used underwater)
What Our Customers Say
I have to say that it is truly a perfect machine for the beach and water hunting that I do. It took me about a week to begin to distinguish the different signature tones for the Excalibur, but in about two and a half weeks I have already found a nice gold ring and an assortment of .925% silver jewelry. I really like the ease of the turn on and go nature of the Excalibur. I simply tune the threshold and leave my other dials set from my last successful hunt and I'm off. - Robert
Final Thoughts on Metal Detecting on the Beach
Beach metal detecting is a great option for people looking for a new hobby. It provides a lot of benefits, is relatively cheap, and the only limit is how far you can walk. Most beaches allow detectorists, and the ever-changing environment means that there's always something new to discover. Just make sure you follow the rules and choose the best metal detector for you!
Summary of beach metal detecting:
Crowded beaches make for some of the best hunting spots
Exercise, relaxation, and meeting up with like-minded people are some of the reasons to metal detect on the beach
You can metal detect both in the water and on the shore, depending on what type of metal detector you have
Specific detecting techniques will improve your chances of finding valuable items on the beach
Some metal detectors are better than others when it comes to beach metal detecting. Pro tip: Try purchasing a metal detector rental and test out the machine before you make a decision.
---
Additional Beach Metal Detecting Resources
Best Metal Detectors To Use On A Beach (How To Be A Successful Salt Water Beach Hunter) By Bill Paxton
A Typical West Coast Beach, Who Knows What Valuables it Might Hold?
The E-mail that popped up on my computer was just like so many others that I had received over the years. Jim had met me at a beach just outside of Los Angeles and after watching me for a while, became intrigued by the idea of looking for valuables in the sand. He had gone out and bought himself the same high-end metal detector that I was using. The problem was that although he had the same detector I did, he didn't have any idea what to do next. His first visit to the beach was a disaster. He didn't find anything and after a few frustrating hours, he was ready to throw his new detector into the ocean. So he was contacting me and his E-mail consisted of basically one word: "HELP!" Jim quickly found out that there was a big difference between simply searching a West Coast beach and actually finding valuables on them. So if you are either in Jim's situation or are contemplating joining me and my fellow treasure hunters on a West Coast ocean beach, this guide is just what you need.
So what is saltwater beach metal detecting and more specifically, West Coast beach metal detecting? That's a simple question, isn't it? It's just hunting an ocean beach with a metal detector, right? Well…the simplest answer is "yes and no." West coast beaches pose challenges that those searching for lost valuables in say parks, schoolyards, forgotten battle sites, and ghost towns, freshwater beaches and even ocean sites along the Eastern United States and the Gulf Coast do not have to deal with. These include highly mineralized sand which can greatly impact detector performance, tidal action that can drastically change a beach in mere hours, and centuries of trash that has washed up and is buried just below the surface. This guide will cover how successful West coast beach hunters tackle these problems and greatly reduce the amount of time it takes for you to become proficient in these sites.
Before we even enter into a discussion of selecting the right detector and other equipment, what hunting techniques are recommended, and the like, there is a VERY important question you have to ask yourself before you go any further. The question is simply this: "Do I want to hunt recreationally / occasionally or am I taking up beach metal detecting in a serious, dedicated manner with the goal of becoming a proficient beach hunter?" Now don't get me wrong, there is no wrong answer to this question. However, how you answer that question is going to have both a financial AND time impact on you. Let me explain with two examples using our friend, Jim, who you met at the beginning of this guide. Jim decided he wanted to hunt the beach so he went out and bought himself a top model – one that cost well over $1,000. Once he added in some additional equipment such as a scoop, pouch, booties, and headphones his investment went past the $1,500 mark.
Detector out once a year on a family vacation at the beach? In that case, Jim's investment may be a case of overkill since the majority of the time his high-end beach machine will be occupying a spot in the back of his closet or hanging on the wall of his garage.
Conversely, what if Jim is intent on being a serious beach hunter but decides to go "cheap" and buy a lower-end machine? Say one that is not designed to handle the challenges of the West coast saltwater beaches? Well, a similar scenario could unfold where due to having equipment that is not up to the task he simply gives up on the idea of beach metal detecting due to lack of results and level of frustration. Once again, the lower-end machine ends up in the back of his closet just like the higher end detector would have in the first scenario.
Either way, the dollars invested don't make "sense". So you have to ask yourself a simple question – "What's it going to be – recreational/occasional or serious/full-on beach metal detecting? Let's take a look at both scenarios and what would be required in each by examining three separate categories: Equipment, Recovery Tools, and lastly Where & How To Hunt.
Equipment:
Frank and His Ring, the Result of Using Proper Hunting Techniques and Having Equal Bits of Luck and Tenacity Mixed In
First and foremost will be your metal detector selection. I have personally dealt with Kellyco for many years and what I like about the company is that they are not "brand-specific." They feature the largest selection of detectors on the planet which on the surface can be a bit overwhelming. However, the advantage of dealing with Kellyco is their expert staff. When I was getting started in the hobby many years ago, I was guided to the right machine for my needs by Kellyco's excellent phone support staff that addressed my specific needs as a hunter. After reading this guide and doing your research you may know exactly what machine you want, but knowing that Kellyco is there to help you decide if you need help is a nice option to have.
First and foremost will be your metal detector selection. I have personally dealt with Kellyco for many years and what I like about the company is that they are not "brand-specific." They feature the largest selection of detectors on the planet which on the surface can be a bit overwhelming. However, the advantage of dealing with Kellyco is their expert staff. When I was getting started in the hobby many years ago, I was guided to the right machine for my needs by Kellyco's excellent phone support staff that addressed my specific needs as a hunter. After reading this guide and doing your research you may know exactly what machine you want, but knowing that Kellyco is there to help you decide if you need help is a nice option to have.
So You Need a Metal Detector to Hunt the Beach But Which One?
The Recreational / Occasional Hunter: You are going to hunt the saltwater beach just a couple of times a year, possibly only on vacation and maybe your kids will take part in the search. You want to find stuff but even a few coins would make for a successful hunt and an enjoyable time on the beach with the family. If this is you, then pick a mid-level VLF machine. Any VLF will handle the dry sand just fine and if you get down to the wet sand where the mineral/salt content can make the detector go crazy (i.e. chattering or erratic operation) you can use the discrimination and sensitivity controls to calm it down. Target ID is nice but not necessary since gold jewelry tends to register in the tinfoil or aluminum range. If you are intent on getting anywhere near the water/splash zone you might want to consider a detector that is waterproof. This isn't necessary if you are going to stay "high and dry" but you don't want to get saltwater into the circuitry of a non-waterproof machine and end up tossing it in the trash on the way home. Another option is to simply place a large Zip-Lock baggie over the control housing to keep the spray away from the electronics.
The Serious Beach Hunter: You want to hunt the beach more than just as a vacation or occasional activity. Maybe all year round, or at least when the seasons permit. You want to put the time in to learn the specifics of hunting a saltwater beach, to educate yourself to enhance the possibility of your making the kind of finds that you read about in the treasure magazines. If this is you, then a higher-end detector – one that offers the ability to hunt a saltwater beach environment effectively – would be the logical choice for you. Personally, I would avoid single-frequency VLF detectors due to their difficulty operating at maximum levels of performance in wet sand environments where the salt content/mineralization is high (like here on the West Coast). This leaves you with essentially two options:
Pulse Detectors: Pulse induction detectors go very deep and are not affected by the salt content/mineralization of an ocean beach. They enable you to go from the dry sand to the wet sand and into the surf with no problems. Many are also waterproof. The only downside to pulse detectors is that they do not discriminate. Yes, you will be digging EVERYTHING. Some folks love them and some can't stand them – the final decision is a matter of personal preference.
Dual / Multi-Frequency Detectors: Several manufacturers make dual or multi-frequency detectors that are able to counteract the salt content/mineralization found at many ocean beaches especially on the West coast. These machines operate very effectively in this type of environment and achieve excellent depth. They do tend to be more expensive than pulse detectors, often feature more options, and do come in waterproof versions. They also offer the advantage of discrimination which makes them very versatile since they can be used inland as well. Again, some hunters love the multi-frequency detectors while others find them to be too complicated and prefer the simplicity of pulse machines.
A quick note on waterproof detectors. Be aware that making a metal detector waterproof can, and often does, make them heavier than land versions, and therefore they can be more wearing on the user than a comparable land model. They require more care (waterproof connections, gasket maintenance, etc), special headphones and due to their being waterproof is much more difficult if you desire to change coils.
Where to Hunt:
A Major Cut, the Product of a Recent Storm, and Extreme Tides
Okay, another easy question to answer right? The beach of course so what are we waiting for? Well, hold on just a minute before you grab your detector and head out onto the sand. Many ocean beaches are huge expanses covering areas the size of several football fields or larger and valuables can be anywhere. Unless Lady Luck is standing next to you when you just hit the sand and start hunting, your day may be a long one and your pouch hold nothing but trash as you head for home.
Therefore, before you unpack your detector, take a look at the beach with an eye for where the beachgoers are or where they were. Once you have established that, head for one or both of these two areas:
1. The Blanket Line
This is the imaginary line that marks where people set up their blankets & towels on the beach for the day. Many people have the habit of removing their valuables and laying them on their towel or blanket so they don't lose them when they go into the water. Good idea. The problem is that when they get ready to leave, they forget about their valuables, and when flipping their towels or blankets to get rid of the sand, send their precious items flying into the air and into the sand behind them. Many hunters love hunting the area just behind the blanket line for just this reason.
The Recreational / Occasional Hunter: This is the spot where I would go if I were you. The sand is easy to dig, your machine will work very well and if you get lucky, you may find a "heart-stopper" piece of jewelry in the bottom of your sand scoop. Plus there is always a lot of fresh-dropped change around the blanket line if beach concessions are nearby.
The Serious Beach Hunter: I know, you tend to pass-up the blanket line. You don't want to be known as a "dry sander." I totally get that; however, there have been many times over the years when the wet sand wasn't producing and my buddies and I went up on the dry and our bad day turned into a very good day. Don't disregard the dry sand/blanket line, it may offer you the potential of some very profitable finds!
2. The Wet Sand
We are talking about the area between the low tide and high tide water lines here. Depending on the tides it may be a large area (at low tide) or a small area (at high tide). Either way, as a beach hunter your goal in hunting this area is to find coins or hopefully jewelry that has been lost while people are swimming. It can either have been lost when the water level was up at high tide or moved there by tidal or current action. Take a look at the people in the water the next time that you go to the beach. Note how many wear jewelry into the water. Rings, necklaces, watches, you name it. A little suntan lotion, seawater, and some water play and any of those items could vanish into the water where the only person capable of finding them is a person with a metal detector.
The Recreational / Occasional Hunter: No harm in venturing down here with your VLF machine, but be aware that you will have to bump up the discrimination and lower your sensitivity to account for the salt content of the water and the mineralized black sand so common on West coast beaches. Not a deal-breaker but your odds are better upon the dry sand and hunting in the water is not an option unless you have a waterproof model.
The Serious Beach Hunter: This is where you belong and, if luck is with you, where you will profit nicely. With your multi-frequency or pulse machine, you will not be bothered by changing salt content or mineralization and should achieve excellent depth. And if your detector is waterproof you can even move into the water to hunt (and cool off on a hot day!). Add in some good surf that churns up the sand or even better takes some away and you have maximized the odds of your coming home with several good finds in your pouch.
3. Cuts and Sand Erosion
For the beach hunter, there will always be wet sand and blanket line areas to hunt. However, unique situations can present themselves that offer a detectorist the opportunity to make numerous and potentially very valuable finds at an ocean beach. These situations occur when a large amount of sand is either moved or churned up, bringing long-buried targets nearer to the surface and closer to a beach hunter's search coil. What causes this movement of sand? It could be a storm, high surf, extreme tides, or a combination of all three. The result can be easily observed by the observant beach hunter. An extra couple of steps may now be visible on the stairway leading down to the beach. Pier pylons may have more of their surface area revealed. I know of one beach in Southern California that has a number of lifeboats secured beneath a pier. When the tips of the lifeboats are visible it means that a lot of sand has been moved and it can be a great time to hunt.
And if you ever see what looks like a piece of the beach has been "carved" out or cut away, leaving a vertical wall of sand behind it—what we beach hunters call a "cut"—head right for it! Hunt from the base of the cut all the way out to the water, and don't forget to run your coil over the vertical face of the cut. What the beach has presented you with is, depending upon the height of the cut, an opportunity to now reach targets that were several feet or more beyond the reach of any metal detector. Mother nature has basically provided you with an excavator free of charge. Most beach hunters will tell you that large cuts often result in their best and most valuable finds.
Searching Basics:
Hunting the Beaches of Southern California
A question you may be asking yourself is, "Okay, I've identified the area that I want to hunt. But it's still really large. How do I lock in on where the targets are?" This is one of those questions that every beach hunter faces each time he or she sets foot on the beach. While I am certain there are hundreds of different methods, the one that I and many successful hunters favor is the "zig-zag" approach. It works like this: You get to the area of the beach that you want to hunt, wet or dry sand, and begin hunting in a zig-zag pattern until you hit a target. Then slow down and grid the area. Some hunters prefer an up and down/lateral method, others like to spiral out, using the found target as the center of their spiral. If multiple targets are located, settle in, and thoroughly search the area. If not, move on.
Now, an important point to make here is once you KNOW a particular beach and what zones generally hold targets, then by all means hit those areas hard. The zig-zag method is generally is used on stretches of beaches that are either very large or are unfamiliar to the hunter.
One final searching basic: TAKE YOUR TIME! I see many beach hunters who, upon seeing how much area there is to search, seem compelled to search all of it in a single afternoon. They whip their search coil across the beach at lightning speed, usually a foot off the sand, and generally find nothing. Slow down, keep the coil close to the sand, let the detector do its job, and find yourself something cool!
West Coast Specific Tips:
One of the most unique aspects of the West Coast is that you can find just about any kind of beach to hunt. Rocky, huge, calm, active, you name it. So there really isn't any technique that I can give you specific to the different types of beaches that we have out here. I guess you can blame or credit the sheer size of our California coastline.
However, I can tell you that if you intend to hunt the beaches of the West Coast, you do need to be prepared for a highly mineralized environment. Our beaches, unlike many ocean beaches in other parts of the country, feature high mineral content that can drive the circuitry of a metal detector crazy. Especially what is referred to as "black sand," sand with a high mineral content that is mixed in with the normal brown beach sand? You will recognize the grayish/black cast that the sand has when you scoop it up. Often times it will even settle in rings of black within the hole. Most metal detectors have a hard time with black sand because they read it as a target. That is why multi-frequency and pulse machines are so popular on the West Coast; they ignore their effects. VLF's will work, but you have to either raise your detector's discrimination or lower its sensitivity to compensate for the mineralization. And the unfortunate result of doing this is that you limit the detector's ability to achieve maximum depth and recognize possibly valuable targets that fall within the range of targets that were eliminated in order to counter the effects of the mineralization.
Recovery Tools:
There is one tool and one tool only that you need here. A sand scoop.
The Recreational / Occasional Hunter: You've already surfed over to the scoops page on the Kellyco site, haven't you? And you want one of those really cool long-handled beauties, right? Gorgeous, dig deep . . gotta have it. My advice – leave it be. For your use, this type of scoop is overkill. Get yourself a nice short-handled scoop if all you want to do is hunt the dry sand. Make it metal as opposed to plastic. It's all you need and will do the job just fine.
The Serious Beach Hunter: You, on the other hand, have some thinking to do. There are many options, from basket type to handle length. One serious consideration here is do you want to bend over to recover a target? If that isn't an issue, a mid-length handled scoop might be right for you. If you prefer not to bend over, or you want to hunt in the water, a long-handled scoop is a better choice. Just be aware that these scoops are heavy and you do have to carry them with you. Dragging them behind you allows you to mark where you have searched and ensures you are not missing potentially productive areas.
A final note on scoops: remember that you are hunting at a saltwater beach. If the scoop you choose isn't stainless steel or aluminum but is, for example, made from galvanized steel, it will be affected by the elements and will deteriorate over time especially if you do not rinse it with fresh water after every use.
Other Equipment:
Other than common sense items like sunblock, water, etc., there are two other items that you should bring with you when you beach hunt. The first is a pouch to hold your finds. I've seen guys use fanny packs, leather pouches, and other devices over the years but I prefer a mesh pouch. Kellyco makes the best one around and it is listed under "Recommended Equipment" at the end of this guide. You wear it on a belt around your waist and you are good to go. The second is a pair of headphones. Headphones serve two purposes: 1. They keep unwanted noise out (like the sound of the surf) allowing you to hear targets) and 2. They keep the sounds of the detector in your ears and out of the ears of others. A noisy detector at a beach draws a lot of attention, be it children following you like the Pied Piper or annoyed glances from beachgoers who don't appreciate the detector sounds intruding on their beach day.
Final Thoughts:
What I love about this hobby, and especially the beach, is that you never know what the next swing of a coil can bring you. Let me illustrate this point by example. This summer, my buddy, Frank, and I went hunting on an ocean beach here in Southern California. After an hour of hunting, Frank came up to me with what I refer to as his "boo-boo" face. He wasn't finding anything and wanted to leave and go home to do some work. I was testing out a new machine a friend of mine had loaned me and gave it to Frank. I told him to give it another hour. Well, guess what? 45 minutes later he showed up with the ring and the grin you see in the picture below. 14K white gold, a bunch of diamonds, later appraised at $800.00 retail! If beach detecting interests you, give the list below a look and come join me and my buddies at the beach. There are great things to find out there if you have the right gear and Lady Luck along with you for the day! And even if you don't find a major goodie, remember what my good friend Andy Sabisch has said to me many a time: "A bad day detecting is still better than a good day at work!"
Recommended Equipment
Best Metal Detectors For Fresh Water Beaches & Lakes (How To Be A Successful Fresh Water Beach Hunter) By Andy Sabisch
A Weekend's Worth of Coins Recovered from a Small County Public Beach with Little More than a Metal Detector and Sand Scoop. With the Beach Packed throughout the Summer, a New Crop will be Ready to Harvest on a Regular Basis.

(Items from the Author's Personal Collection and Recovered from a Public Beach with Permission from the Resource Manager)
An early morning breeze swept across the small lake as Steve unpacked his metal detector, scoop and other gear from the trunk of his car in the parking lot of the town swimming beach. Countless residents had spent time cooling off during the warm summer months in the shallow water since the beach was first opened shortly after WWII ended and Steve was hoping that coins, jewelry, and other items might still be waiting to be recovered. He had been here before and found not only recently-lost items but coins and other things that dated back to the first half of the 20th century. For the first hour or so Steve crisscrossed the dry sand and picked up close to $10 in clad coins, a pair of Matchbox cars that his kids would add to their growing collection when they came home from school and a silver & turquoise medallion. Getting his long-handled scoop from the trunk, Steve waded out into the water and slowly worked back-and-forth parallel to the beach. Standing in the waist-deep water, watching the ducks and geese swimming past and seeing the town come to life, Steve felt the weight of the world fall from his shoulders and knew that this was the most relaxing hobby one could have. Signals were fairly plentiful and while most were recently-lost, a pair of dark gray Mercury dimes and a few Wheat cents did turn up in his scoop. Glancing at his watch a while later, he saw it was time to pack up and take care of some errands but emptying his pouch, he smiled to see that in addition to the coins, there were two gold rings…a heavy man's ring with several diamond chips on the face and a class ring from the local high school. As a side note, Steve was able to track down the boy that had lost the class ring more than 3 years earlier just a few months after he had gotten it and the story made the front page of the local newspaper which helped paint the hobby in a positive light. If this sounds like something you would be interested in trying, then this guide is for you.
Beach metal detecting is probably the only form of treasure hunting where almost anyone can go out and find items worth $100's or even $1,000's just a short drive from their house. Most importantly, one is able to do it on an on-going basis as valuable targets are continually being lost at beaches and informal swimming sites. With very few exceptions, there will be a beach or at least a spot where people have spent time relaxing in the water near any location across the country and these sites tend to remain popular year after year resulting in a steady stream of valuables being lost.
The techniques and equipment used at freshwater versus saltwater sites are in many cases quite different due to the conditions that exist at each so this guide will cover how to hunt freshwater sites.
Freshwater sites have fewer ground challenges than saltwater sites where black sand, saltwater, and flakes of rusted metal tend to challenge most metal detectors. Freshwater sites are typically smaller in size than ocean beaches and are often well-defined with buoys/ropes enclosing the swimming area. As a result, it is fairly easy to determine where to focus your search efforts especially if the site is still in use. Stopping by at the busiest time of the day will let you see where the activity is centered and those are the areas that will hold the greatest potential when you return after the crowds leave for the day or the site closes for the season.
Equipment:
Seven Pieces of Jewelry Recovered from Several Fresh Water Sites Over the Course of Two Weeks. The Class Ring was Returned to the Original Owner Who Could Not Believe Her Ring was Found after Laying on the Bottom of the Lake for More than 4 Years.
(Items from the Author's Personal Collection and Recovered with Permission from the Property Owners or Area Managers)
When it comes to freshwater beach and shallow water hunting, the two biggest factors in selecting a detector are ensuring the electronics do not get wet and having the ability to apply some level of discrimination to keep from digging piles of nails, bobby pins, and other pieces of trash. Saltwater tends to accelerate the deterioration process of small ferrous items which is why Pulse Induction detectors do so well in those areas…the trash disappears within months of having been lost. At freshwater sites, a bobby pin or nail lost in the 1940s will likely still be waiting for you to detect it decades later and will cause nothing but frustration if you do not have the ability to reject it.
VLF detectors have proven themselves to be the "detector-of-choice" for most freshwater hunters due to their sensitivity to targets in the jewelry range, their ability to ignore trash thanks to discrimination circuits, and their ease of use. Multi-frequency detectors such as those from Minelab and Fisher are also good choices although if you never plan on visiting saltwater sites, they may prove to be over-kill for strictly freshwater sites. While some adventurous water hunters modify land detectors for use in the water, unless you have experience in this conversion, it is much easier to simply buy a detector that was designed for use in and around the water. Kellyco carries detectors intended for this application from virtually every major manufacturer…do your homework and make your choice.
Weight and balance may become key factors in your final decision. Remember, the waterproof case and non-buoyant coil that these detectors require will add weight to the entire assembly. If you are planning to hunt in the water for extended periods of time, look at the profile of the models you are considering as drag through the water as you sweep back-and-forth can quickly wear you out and bring the day to an abrupt and premature end. Some models allow you to mount the control box which makes it much easier to hunt in the water for an entire day in the field.
An option that has become quite popular with water hunters is what is known as a straight shaft. By replacing the standard S-shaft design found on most detectors with a straight-shaft design, the balance is improved and the detector will appear lighter allowing it to be used for longer periods of time without fatigue. Kellyco carries the line of Anderson Straight Shafts which are recognized for their design and overall build quality. There are shafts for most detectors currently on the market.
Coil size will depend on the type of sites you plan on hunting as well as if you will be in the water or on dry land. Larger coils cover more ground with each sweep and get a bit more detection depth but they do produce more drag when sweeping back-&-forth in the water and when searching trashy areas, are susceptible to target masking resulting in potentially missed targets. Smaller coils offer the opposite in terms of pros and cons. While a few models offer interchangeable coils, for the most part, search coils are hard-wired to the control unit to prevent leakage from occurring so you need to make a decision as to what factors are more important at the time of purchase.
Once you have selected a detector, other items that you will want to consider adding to your equipment arsenal include a recovery tool or tools (see below), a mesh pouch or bag that closes securely to hold your finds, a floating sifter that reduces the time to find detected targets in the water, a pair of dive boots or water shoes and a miners-style headlamp if you plan on beach metal detecting at night when the crowds have left.
Finding Sites to Search:
Coins and Jewelry are Not the Only Things Waiting to be Recovered from Freshwater Swimming Sites. This Toy Watch Recovered from a Swimmin' Hole in a Georgia Creek Dates from the 1930s and Makes a Unique Addition to One's Collection.

(Item from the Author's Personal Collection and Recovered on Private Property with Permission from the Owner)
Now that you have the right equipment to tackle the unique challenges that beach and shallow water hunting pose, the question is where to go and start picking up those valuables waiting to be recovered. Well, the first sites that should come to mind are any formal swimming beaches in the area. Depending on where you live, they can be operated by local agencies, State parks, the Corps of Engineers, the National Forest System, or privately owned. Unfortunately, more and more restrictions have been placed on where detector owners are allowed to search, and beach metal detecting is no exception. You would think that if an area has been developed for swimming by hauling in truckloads of sand that there are probably no historic artifacts that might be inadvertently uncovered; however, restrictions exist nonetheless. For locally controlled swimming areas, stop by and ask to speak to the site manager to check on any restrictions that might exist. Often, if there are any it will simply be that you are not allowed to search the area when patrons are present and that makes sense to all involved. To see what restrictions exist at State parks in your area, do a quick Internet search for "(Your State) State Park" and look for the Rules and Regulations page. If the regulations are not clear, give the main office a call and let them know where you are interested in searching. If you are given the "green light", get the name of the person you spoke to in case you are challenged when you get to the site – I can tell you from personal experience that if you are challenged and do not have a name, you will be told to leave and your trip was wasted. The U.S. Army Corps of Engineers controls large tracts across the country and many of these areas contain waterways with developed swimming areas. A visit to the main Corps of Engineers website (https://www.usace.army.mil/) will direct you to the regional office that controls sites in your area. A quick phone call will help you determine what restrictions might exist and if a permit is required (which is needed for some sites). Private swimming areas are typically a little harder to gain access to but if you, a friend or relative know the owner, you might just be given exclusive access to a site that can become your private Fort Knox. Over the years I have been fortunate to have been granted access to a few of these sites and what one can recover in a short period of time is truly amazing.
If you are interested in doing a little research to find swimming areas that were popular years ago but have fallen into disuse, the best place to start is with a few of the long-time residents in the area. Ask them where they swam when they were kids or better yet, where their parents swam when they were kids. Before the 1940s, informal swimmin' holes were commonplace and many of these sites are not documented anywhere other than in the memories of the older residents that once frequented them.
Another source that a few hours of research can unearth sites in is old newspapers from the local area. They often list gatherings at beaches that may have closed decades ago in the Social section, report items lost by swimmers in the Lost & Found section, or even mention a drowning that occurred at a local beach in the Obituary section. Many libraries have started to make their collection of newspapers available on-line to members and a call can find out of your library is one of them. There is a subscription-based service (https://www.newspapers.com/) that is adding 1,000's of old newspapers each month from around the globe which is an option if you are into some 21st-century research. The old-fashioned method of spending a rainy afternoon going through archives or rolls of microfilm still works and has proven to be an effective way to find sites that most of your competition has overlooked.
With the increased competition among beach and water hunters today, research is the key if you want to be successful. With a little effort, you will be able to locate sites that are currently in use as well as those that have become little more than memories that have likely not been hunted before.
Ok, It's Search Time:
Hopefully, your research efforts have paid off and you have a list of sites to search. Again, one of the advantages of hunting freshwater sites is that for the most part, any items that are lost tend to remain where they were lost for years. Unlike ocean beaches where tidal action can move a coin or ring literally blocks in a matter of days, freshwater sites tend to be much more static in nature. If the site is still in use, the area of activity can be easily identified and the type of people frequenting specific areas readily determined with a little reconnoitering when the crowds are there.
The areas you should look for include:
The Areas Where Mothers Splash Around with their Toddlers: Often there will be one section of the beach where mothers play with their young children and when you have suntan lotion, cool water and splashing, rings often find their way off fingers and lay hidden in the sandy bottom.
The Areas Where Teens and Adults Tend to Horse Around: The area from waist-deep out to the ropes is where horseplay tends to take place. This is where the lifeguards are forced to focus much of their attention and as with the shallow areas, suntan lotion and horseplay tend to result in items being lost, and in deeper water, they tend to stay lost until a metal detector comes along.
The Dry Sand: Here you want to see where the towels are laid out (coins and other items are often lost when the towels are picked up), lounge chairs are set up (items fall through into the sand), volleyball nets are in-use (coins, jewelry, and other items are easily lost in the loose sand) or where the concession stands are (coins are lost in front of the windows or on paths to/from the stands).
The most important point of searching any of these three areas is where you set your discrimination. While it may be tempting to increase it when you have recovered 50 pull tabs, the important thing to remember is that most gold jewelry will appear identical to aluminum trash. If you pass up the trash there is a good chance that you will be passing up the treasure as well.
When hunting the dry sand, it is easy to mark where you have searched by dragging your scoop behind you or looking for the imprint from the search coil. Good coverage can make the difference at the end of the day because if you miss a $5,000 diamond ring by an inch it might as well have been on the beach on the other side of the county as it will not be in your pouch as you drive home. In the water ensuring you do not miss a spot is a little more challenging. Unless you being some fiberglass or bamboo posts that you can put out to guide off of, try to focus on something ahead of you such as a post, a buoy, a concession stand, a tree…something that you can glance at and correct your course if you start to wander left or right.
Recovery Tools:
For beach metal detecting, scoops are the "tool-of-choice". In the dry sand, a hand scoop is the best piece of equipment for the job unless bending over poses an issue for you as they are lighter and will quickly recover targets that have been detected. Scoops range in construction from lightweight plastic (which is handy as you can pass the scoop across the coil and see if the target is in it or still in the hole) to rugged metal scoops made from steel or aluminum. Some dry sand beach hunters opt for a lightweight scoop with an adjustable handle which is easier on the back when recovering dozens of targets.
If you decide to leave the dry sand behind and search the shallow waters of the swimming area, a long handle scoop is a necessity. Even if the beach bottom consists of just sand, invest in a scoop that will hold up to the punishment of digging deep holes in compacted soil, sand or rocks. Those that have hunted with me have commented on the condition of my primary scoop which has been with me on countless hunts since I bought it back in the 1980s. Other than it looking a bit battle-scarred, it works just as well today as it did nearly 30 years and 1,000's of holes ago. This is one tool where spending a little more upfront will pay off in spades with the increased efficiency you will have in recovering targets and the durability of the scoop itself.
An inexpensive piece of equipment that will save you time in recovering targets is a magnet placed in the back of your scoop. Rusted pieces of metal will show up even with the use of discrimination and the magnet will quickly grab and hold these trash targets which keeps you from chasing them as they keep falling through the holes in the scoop. One of the best types to buy can be purchased from a farm supply store and is called a cow magnet – they are fed to cows to retain metallic junk ingested by the cow and allows it to be passed without injury. Secure it to the back of your scoop with a wire tie and small ferrous trash will no longer be a problem.
Summary:
If the thought of seeing the glint from a piece of gold jewelry sparkling up from the bottom of your scoop or an old coin laying in your palm after being plucked from shallow water sounds like something you'd like to experience, scope out a few of the lakes, ponds, creeks, and rivers near your home and give fresh water hunting a try. It is an addictive form of treasure hunting and one that can be done almost anywhere across the country with the right equipment.
Recommended Equipment