Published by Eric Reed on 02/05/20
In this article, I embark on a technical and performance-based deep-dive into one of the new metal detectors that has taken the detecting community by storm: the Nokta Makro Simplex. I will strive to answer the two primary questions on everyone's mind for this metal detector review of the Nokta Makro Simplex:
What do you get for the incredibly reasonable price of the Simplex?
When put to the test, can the Simplex really get the job done?"
Setting Up the Nokta Makro Simplex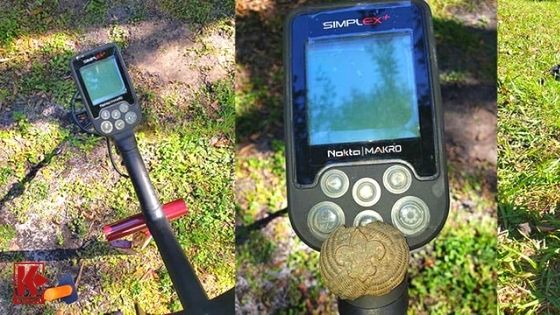 Setting Up The Nokta Makro Simplex
The first thing I noticed when handling the Simplex was the solid construction of the machine. The straight shaft —rather than the S-shaped shaft of some detectors— composed of rectangular shaft tubing is rigid and sturdy, and the two locking levers for the telescoping shaft kept the shaft solidly in-place. The shaft telescopes down to as short as 25″, making the Simplex very easy to handle for both underwater detecting or travel.
The detector easily fits sideways in the back of a compact-SUV, making packing for a detecting trip a breeze. This is the first detector of its caliber that I've been able to so quickly and consistently telescope the shaft up or down — a plus!
Usability
The slightly larger diameter molded rubber handgrip is the best I've experienced on a detector to date. The rubber is firm and clearly robust, yet it retains a very tactile surface, making it easy to maintain grip in wet/muddy conditions. The arm rest cup is spartan (no foam lining), which could potentially cause some excess bare skin chafing on long, hot summer hunts. However, the entire assembly is easily adjustable on the shaft by simply loosening and retightening three screws.
Attention to small details matter, such as the slightly wider "wings" on both the bolt and nut that fasten the coil to the shaft. This is a welcome feature for those of us with large hands/fingers, and makes coil changes quick and easy.
Weight
At only 2.9lbs, the Simplex is a sleek machine, falling squarely in the weight range of the entire Garrett ACE series and the Minelab Equinox detectors. Combined with the above mentioned straight shaft, the lightweight design, an awesome handgrip, and a fined-tuned balance, the Simplex is a joy to swing for hours on end.
Coil
The 11″ circular Double-D coil is well-constructed, and comes with a coil guard installed. Nokta makes it clear which way the coil is to be installed, as the coil cable is connected at the very rear of the coil.
Battery
Charging the Simplex internal battery —replaceable only by Nokta Makro— is a simple matter, although it does require the use of a special charging cable that comes with the detector and connects to a proprietary screw-on charging port on the back of the control box. This is the same port used to connect the machine to a computer for online operating system software upgrades. The connection to the threaded charging port is reliable and easy to screw on, although somewhat laborious considering some of the quicker and simpler magnetic and plug-in charging connections on some other brand machines.
One innovative feature is the ability to charge the Simplex battery "on the fly" with a portable power bank and the small charging adapter cord. I suspect the likelihood of this feature being used is low given the detector's 12-hour rated runtime; however, it's nice to have the option if you're in the field and running low on juice!
Headphones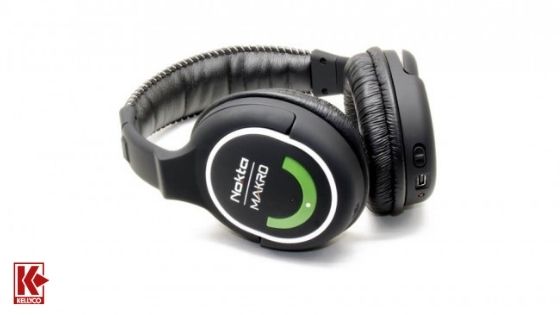 Green Edition 2.4 Ghz Wireless Headphones
The process to pair the Green Edition 2.4 Ghz wireless headphones to the machine is relatively straight forward. The wireless headphone manual, as well as the detector manual can be found on the Nokta Detectors website. The volume for the headphones is controlled by the detector volume setting.
I have consistently noticed that the volume, even when turned all the way up, can still be fairly low in the headphones, which could possibly result in missing very faint/small targets. Interestingly, although the documented range of the radio frequency-based wireless headphones is 10 meters (33 feet), the instruction manual emphasizes that the headset's blue LED (on the side with the green pairing bar) must be worn on the same side of the detectorist's head as the arm in which they are holding the detector. The headphones are able to be worn with either ear cup over either ear.
While I have yet to notice a difference regardless of which way I wore the headphones, this does lead me to believe that the headphone wireless connection strength may be somewhat underpowered, which may account for the lower signal volume.
Also, the wireless headphones do not come with their own power adapter, yet the manual levies a clear warning that only a 5V 1A charging adapter should be used to charge the headphones, and that using an adapter with higher voltage or amperage may damage the headphones or its battery.
As stated in the manual, the apparent intention is for the detector's charging adapter to also be used for the headphones. However, this results in the detector and headphones (each require up to 3 hrs to charge) being charged separately/serially. The headphone battery is rated to last 14-20 hours, and indeed they have retained solid power for my 6-8 hours hunts. The headphones themselves are enjoyable to wear, with the pads themselves being very soft and comfortable. Nokta Makro also produces a pair of wired waterproof headphones for subsurface detecting down to 10 ft underwater, the Simplex's maximum rated underwater depth.
Frequency
The Simplex is a single frequency (12KHz) Very Low Frequency (VLF) metal detector. This frequency range falls right in between the lower 6-8KHz range of the Garrett ACE series, and the higher 13-15KHz range of the Garrett AT Pro, AT Max, and White's MX Sport. That niche results in a detector frequency that's able to discriminate well between a wide range of ferrous and non-ferrous targets, while still retaining significant depth.
Modes
As with other leading detectors on the market today, the Simplex has multiple selectable modes that include: All Metal Mode, Park Mode, Field Mode, and Beach Mode.
All Metal Mode provides a single tone response for all metal types, yet still displays the corresponding target VDI number, and offers more depth that the other modes. My testing of All Metal Mode in normal PH soil resulted in detection of signals as deep as 10-12 inches.
Field Mode offers 2-tone discrimination, low tone for ferrous, high tone for non-ferrous. Field Mode is my go-to mode for most situations as it seems to provide the most depth and stability while discriminating target types.
Park Mode provides 3-tone separation, and slightly faster recovery speed, making it more suitable for trashy/cluttered sites. During testing Park Mode seemed to lose some depth when compared to Field Mode.
Beach Mode is designed for saltwater and conductive/mineralized soils, and is unique in that it enables full-range auto balance capability and automatically notches out iron targets.
Control box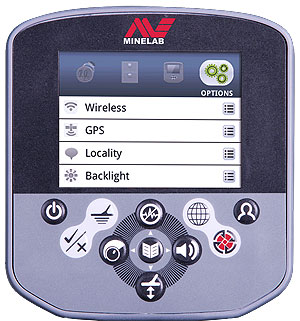 Control Box
The entire control box interface is well laid out and is easily learned in a short amount of time. Nokta ensured visibility by building in a backlit LCD screen and backlit keypad, and adding a small LED flashlight mounted on the underside of the control box for those after dark hunting excursions, or even for use as an emergency light to find your way back to the truck!
The rubber-capped keypad buttons are well spaced; however, they can sometimes be a challenge to depress while wearing gloves, especially thicker cold weather digging gloves.
A couple key features that I have found valuable are Iron Volume and Frequency Shift.
Iron Volume allows you to completely turn off or adjust the volume on iron/ferrous signals. This is helpful in heavy iron infested sites, such as an old home site, reducing the persistent iron tones while still being able to discern their location in the background thus maintaining awareness if you're still in the zone.
Frequency Shift provides a three-level adjustment in the event of nearby electromagnetic interference (EMI). In my testing, this functionality proved valuable, as the Simplex and my Garrett Pro AT pinpointer didn't play nice. This probably owes to the pinpointer's 11.5KHz operating frequency and the Simplex 12KHz operating frequency. The ability to frequency shift to "F3" provided some relief, although it didn't completely eliminate interference from the pinpointer.
Other tested and solidly performing capabilities such as target signal vibration, pinpoint, auto and manual ground balance, and notch discrimination add to the list of features that put the Simplex in a class well above its pay grade!
Nokta Makro Simplex Review: Trouble with Updates
The Nokta Makro Simplex is able to receive online firmware updates through a computer. For this Nokta Makro Simplex review, I tested that capability, and the results were disappointing. The update "bricked" my machine. I followed the short process as outlined in the Simplex manual and in the tutorial video on Nokta Makro's Simplex webpage.
In short, instructions were few, lacked needed detail, and were sometimes inaccurate. The big problems came, however, when trying to download and install the update. The customer interface/process for the update requires the user to click a .ZIP file link, save/extract the files to your computer and execute individual root files. This process is archaic, and lends itself to potential human error.
There's also no update app/interface, such as that deployed by Minelab, to seamlessly check the installed software version and advise if an update is needed, and seamlessly process/install the update. In the end, the update would not fully install, and I ended up with a warning triangle over coil and exclamation mark on my Simplex LCD screen indicating I was dead in the water. The good news is that the awesome folks at Nokta Makro responded quickly and had my machine back up and running in only a couple of days. Hopefully Nokta will refine their online update process. In the interim, I recommend using patience, caution, and extreme attention to detail when performing any update on your Simplex.
Nokta Makro Simplex: Performance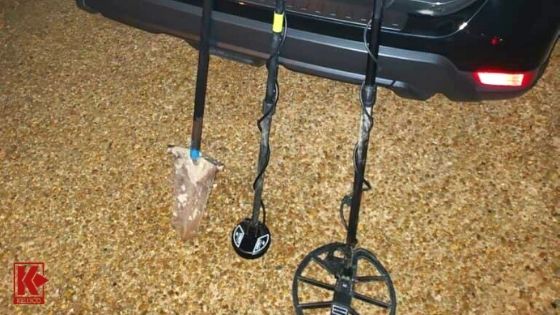 Pictured here is Eric Reed's Nokta Makro Simplex (right), his Garrett AT Max with a new Sharpshooter coil (center) and a shovel (left).
During my several field tests of the Simplex, it became clear that Nokta has indeed developed a very capable machine. I was able to recover a number of colonial and civil war-era relics, although none deeper than about six inches. The difference in performance between the Simplex and past outings with an AT Max and Equinox 800 to my test site was clear and expected. The latter machines drilled consistently deeper with clearer target definition, but the Simplex performed impressively nonetheless and recovered many relics!
These same results were confirmed at home in my test garden, with buttons, mini-balls, and silver & copper coins buried at depths ranging from 4-10 inches. At 4 inches the Simplex solidly nailed each target. At 6 inches, detection was still evident, but weaker, and at 8-10 inches the consistency of target lock and tone/VDI started to degrade at significantly.
Nokta Makro Simplex vs. Garrett AT Pro and AT Max
To see exactly how the Simplex compared to other detectors in a measurable apples-to-apples test, I decided to conduct an air-gap comparison on the Simplex, versus an AT Pro and an AT Max. To keep the playing field as level as possible for this Nokta Makro Simplex review, all machines were charged to full battery, set to zero discrimination, with the Simplex set to Field Mode. Sensitivity was set to maximum on the Simplex and AT Pro. It was dropped one notch on the AT Max due to the mass of spurious signals from it naturally running so hot (I don't recall I single time I've been able to run the AT Max at full sensitivity, for that very reason).
| | Simplex | AT Pro | At Max |
| --- | --- | --- | --- |
| Small Brass 16th Century Colonial Tack Decoration | 6" / 3.5 " | 5" / 3.5" | 9.5" / 8" |
| Brass General Service Eagle Button | 10.5" / 6.5" | 10" / 8" | 12.5" / 11" |
| MiniBall | 8" / 6" | 8" / 6.5" | 11.5" / 10" |
| Brass J-Hook | 8" / 4.5" | 9" / 7" | 10.5" / 9" |
| Barber Silver Dime | 7" / 5" | 8.5" / 6.5" | 10.5" / 9" |
| Copper Large Cent | 9" / 7" | 9.5" / 8" | 11.5" / 10.5" |
| Brass CS Buckle Tongue | 10.5" / 8" | 10.5" / 10" | 14" / 12.5" |
Impressive! The Nokta Makro Simplex consistently performed on par with the AT Pro in all tests, and better in some cases. The AT Max, as expected, walked away with far superior results, helping illustrate the break-line between detector classes.
Overall Evaluation of the Nokta Makro Simplex
Combined with an array of easy-to-use advanced features, and a lower price point, the Nokta Makro Simplex is a clear winner in the beginner VLF metal detector category, and a solid contender in the mid-range detector class. Some tweaks to issues such as the software update process and EMI interference mitigation will only make this detector shine brighter. Hats off to Nokta Makro for successfully delivering this advanced capability at a price attainable by even more detectorists!
Nokta Makro Simplex: History and Background
The Nokta Makro company, based in Istanbul, Turkey, is a relative newcomer to the metal detecting community. First started in 2001, Nokta Detectors rapidly grew within the industry, acquiring another Turkish-based metal detector manufacturer, Makro Detectors, in 2014, forming Nokta Makro.
The combined arsenal of Nokta Makro is impressive, ranging from coin and relic VLF machines to extreme deep detecting and specialized underwater detectors, to cutting edge artificial intelligence-enabled target imaging metal detector systems.
Emphasis on advanced research and development efforts is a Nokta Makro forte'. They combine that R&D prowess with a local resource market that is comparably much less expensive than in the U.S. or European markets, which results in Nokta Makro being able to offer quality detectors with impressive technical specifications at a substantially lower cost. My overall consensus for this Nokta Makro Simplex review is that it's a great machine!
About Eric Reed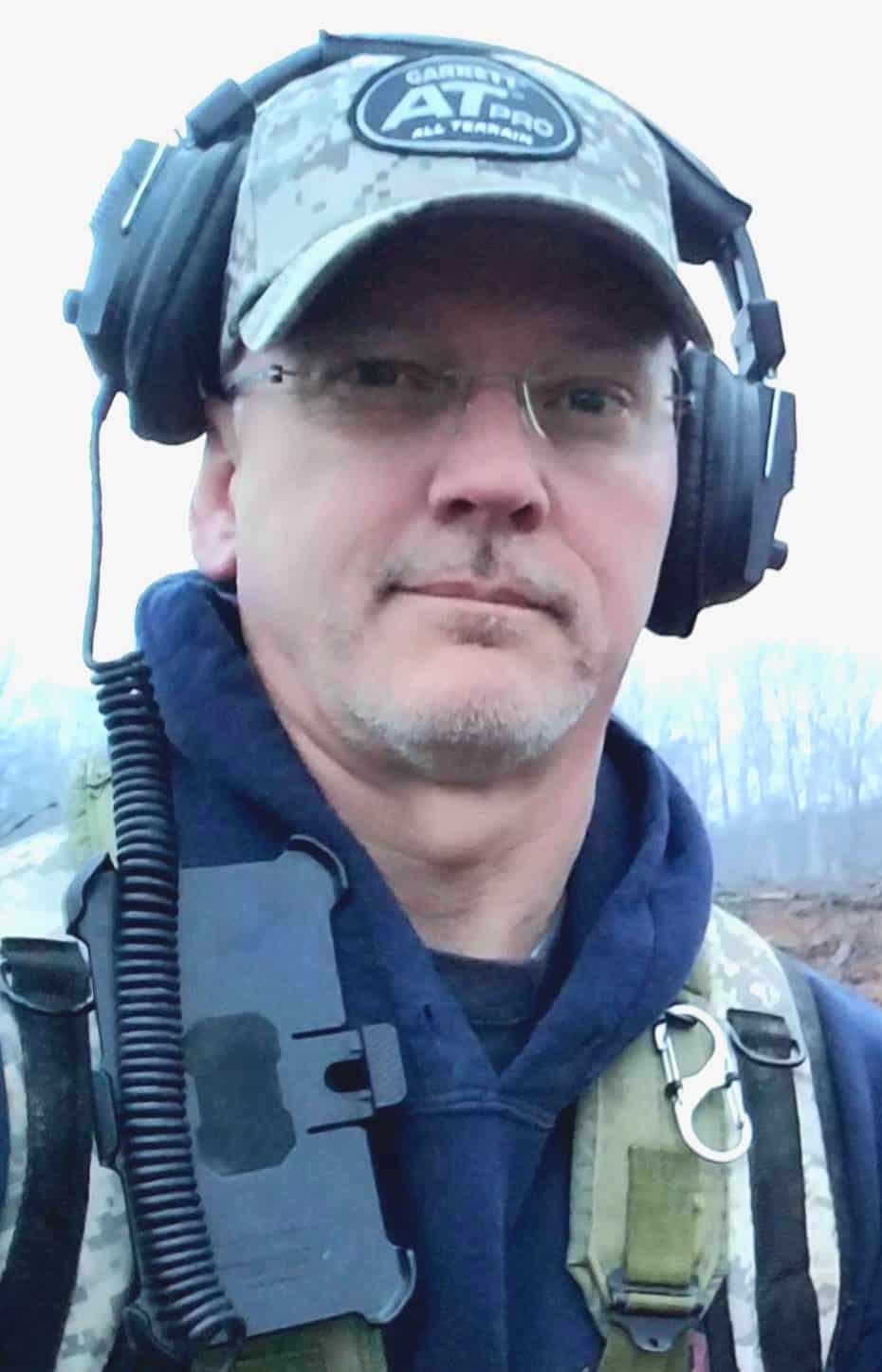 As a career Air Force veteran, my love for history and the thrill of the hunt fuels my passion for metal detecting. I find myself fortunate to live in the relic hotbed of historic Williamsburg, Virginia, and have been equally privileged to hunt and spend time with hundreds of talented detectorists and personalities over the years. Some of my favorite finds, such a CS buckle tongue, a solid silver colonial fancy shoe buckle, and Confederate Script and Block "I", "C", and "A" buttons, have even been published by world-class organizations such as Kellyco, Garrett, and American Digger Magazine.
In my spare time, I've helped manage and co-host a popular detecting podcast, recovered folks' lost jewelry, and most recently founded my company, Patriot Metal Detecting.